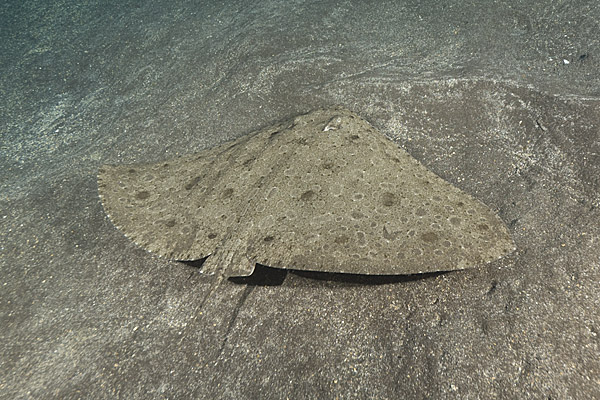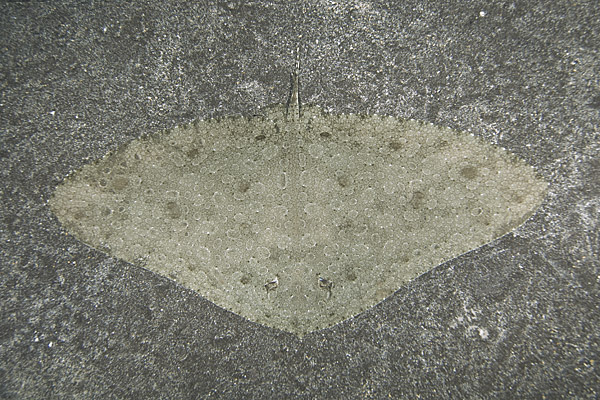 Photograph copyright Andy Murch all rights reserved
View all available Spiny Butterfly Ray Pictures
Common Names: Spiny Butterfly Ray, moth ray, butterflyray.
More common names below text.
Latin Name: Gymnura altavela
Family: Gymnuridae
Identification: Disc width roughly twice length. Dorsum covered in an intricate pattern of tiny lines and swirls that form light and dark brown spots and larger irregular circles fringed with white. Ventrum white, cream or with a pinkish hue. Short tail has one or two tail stings (unborn embryos already have fully formed tail stings). Dorsal fin absent. Very low dorsal and ventral finfolds on tail.
Size: Wing span to 400cm.
Habitat: Sandy or muddy bays and brackish estuaries, sometimes near rocky reef faces, and over sand flats. 2 to 100m depth.
Abundance and distribution: Occurs in the eastern Atlantic Ocean from Portugal to Angola including the Canary Islands, Madeira, and the Mediterranean and Black Seas. Also occurs in the western Atlantic Ocean from Massachusetts to Argentina.
Behavior: Lays motionless for much of the time under a thin covering of sand. Butterfly ray footprints or beds (indentations left in the sand) can often be seen days after the animal has moved on. Feeds on fishes, crustaceans, mollusks and plankton.
Reproduction: Ovoviviparous. 4-7 embryos. Gestation lasts for about 6 months. Once the unborn spiny butterfly rays have completely used up the reserves in the yolk sac, the mother secretes uterine milk. Long villi (filaments) grow from the uterus walls into the embryo's spiracles. Milk can then be directed more efficiently into the embryo's mouth and throat.
Photographs: Los Gigantes, Tenerife, Canary Islands, Eastern Atlantic Ocean.
Similar species: Another species that shares the western range of the spiny butterfly ray is the Smooth Butterfly Ray Gymnura micrura.
Reaction to divers: If buried in the sand, the spiny butterfly ray will often remain motionless while divers pass. Even after most of the sand has been fanned away (as in the above picture) these rays are likely to remain stationary as long as the observer uses slow, non threatening movements.
Diving logistics: Spiny butterfly rays are fairly abundant around the Canary Islands. Reportedly, there is one that has taken up residence in the harbor on El Hiero. I have seen many beds in the El Cabron Marine Park but no actual animals.
Occasionally spiny butterfly rays attend the organized ray feeds at Los Gigantes on Tenerife (where the featured specimen was seen). Los Gigantes Diving offers freestyle feeds once or twice per week. The divemaster takes a huge barrel of fish scraps to 60ft and offers them to the eagerly gathering ray species. After a while the human participants usually help themselves to some fish and wander off to interact with the rays on their own. The feed can be rather chaotic but the ray action is almost guaranteed. Attending species include common eagle rays, common stingrays, roughtail rays, round stingrays and occasionally angel sharks, butterfly rays, and marbled torpedo rays. Very occasionally a large Bull Ray swims by. Contact Los Gigantes Dive Centre for further information.
Further reading:
Sharks and Rays - Elasmobranch Guide of the World. Ralf M. Hennemann. IKAN.
Other names of the Spiny Butterfly Ray:

大燕魟 China Main Chinese

大燕魟 China Main Mandarin Chinese

скат-бабочка обыкновенная Russian Fed Russian

Πλατυσέλαχο Greece Greek

Aeroplanke Albania Albanian

Altavela Italy Italian

Arraia-borboleta Brazil Portuguese

Arraia-manteiga Brazil Portuguese

Avejão Portugal Portuguese

Bâsternâk Lebanon Arabic

Borboleta Brazil Portuguese

Breamanta Portugal Portuguese

Bugghiu Italy Italian

Butterfly ray UK English

Choucka bastarda France French

Doornvlinderrog Netherlands Dutch

Farfett Malta Maltese

Gavila Italy Italian

Giant butterfly ray Cuba English

Ignelivatoz Turkey Turkish

Isoperhosrausku Finland Finnish

Kazıkkuyruk balığı Turkey Turkish

Khop Mauritania Wolof

Köppor Mauritania Wolof

Manta Spain Spanish

Manteddu Italy Italian

Mantellina Canary Is. Spanish

Mariposa Canary Is. Spanish

Marmorerad fjärilsrocka Sweden Swedish

Masca France French

Milá Spain Spanish

Motýlovec trnitý Czech Rep Czech

Mourine bâtarde Mauritania French

Pastenague ailée France French

Pastigue de Columna France French

Pastinaca Spain Spanish

Peitschenrochen Germany German

Pigrokke Denmark Danish

Pilrokke Norway Norwegian

Pilskate Norway Norwegian

Pisciu vela Italy Italian

Platyselacho Greece Greek

Ptaszyca Poland Polish

Raia-borboleta Brazil Portuguese

Raia-gererera Brazil Portuguese

Raia-manteiga Brazil Portuguese

Raie aigle Mauritania French

Raie papillon Mauritania French

Raie-papillon épineuse France French

Raya mariposa Spain Spanish

Raya mariposa espinuda Spain Spanish

Rayamariposa Spain Spanish

Σαλάχι πλατύπτερο Greece Greek

Sálahi trygéna Greece Greek

Siba zutulja SerbiaMontenegro Serbian

Stechrochen Germany German

Stingrocka Sweden Swedish

Stor sommerfuglerokke Denmark Danish

Tavela Italy Italian

Tavila Italy Italian

Trigóna Greece Greek

Uge-manta Portugal Portuguese

Uge-mata Portugal Portuguese

Vaca Spain Spanish

Vela Spain Spanish

Vela italiana Spain Spanish

Vela latina Mauritania Spanish

Vela-latina Portugal Portuguese

Volina SerbiaMontenegro Serbian

Vugghiu mantellinu Italy Italian