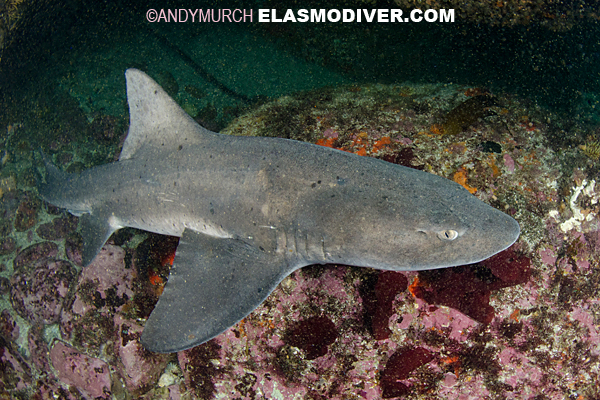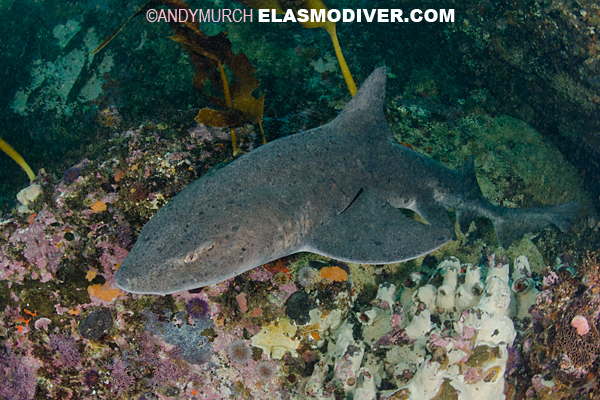 Photographs copyright Andy Murch. All rights reserved.
View all images of Spotted Gully Sharks in the Shark Pictures Database
Common Names: Spotted Gully Shark, Sharptooth Houndshark, Sweet William.
Latin Name:
Triakis megalopterus.
Family: Triakidae.
Identification:
Stocky grey/tan body with a light or heavy scattering of dark irregular spots. Juveniles have fewer or no spots. Fins long and broad. Second dorsal almost as big as first dorsal. Underside pale. Snout short and bluntly rounded. Teeth small, triangular and pointed.
Size:
Maximum recorded size 170cm.
Habitat:
Inshore sandy beaches, kelp forests and rocky reefs from the surf line to 50m.
Abundance and distribution:
Endemic to Southern Africa. From Southern Angola, Namibia to Natal Province in eastern South Africa. Fairly common along the Western Cape.
Diet:
Hunts over sand and reef in search of crabs, lobsters, small fishes and other sharks.
Behavior:
Known to school in summer. Around Simon's Town, spotted gully sharks reside in caves in the reef during the day.
Reproduction:
Ovoviviparous with no yolk sac placenta. Recorded litter size 6-12.
Photographs:
Millers Point, Simon's Town, South AFrica.
Conservation Status: The IUCN lists the spotted gully shark as 'Near Threatened'. "There is a fairly large directed commercial shark demersal longline fishery centred in Gansbaai and False Bay in South Africa, which takes the Spotted Gully Shark as a minor bycatch along with the target species, Soupfin or Vaalhai (Galeorhinus galeus), and other more abundant bycatch species such as Common Smoothhound (Mustelus mustelus) and Bronze Whaler (Carcharhinus brachyurus). There are no separate statistics available for commercial catches of Spotted Gully Sharks. The meat of such sharks is dried into shark ?biltong? or jerky, which sells for a relatively high price locally, or is shipped fresh or frozen overseas (Italy or Taiwan (POC)). Also caught recreational anglers in South Africa and Namibia, but not eaten much locally although perfectly edible."
Citation: Compagno, L.J.V. 2009. Triakis megalopterus. In: IUCN 2012. IUCN Red List of Threatened Species. Version 2012.2. www.iucnredlist.org
Similar species:
The most similar species to the spotted gully shark (within its small range)
is the common houndshark Mustelus mustelus and the whitespotted houndshark Mustelus palumbes. Both of these sharks are more slender and lack the back spots of the spotted gully shark.
Reaction to divers:
Very skittish. Spotted gully sharks are extremely difficult to approach when they are swimming in the open. In Simon's Town it is sometimes possible to corner them in cave entrances in order to observe them more closely.
Diving logistics:
Miller's Point in Simon's Town (just down from the Boulder's Beach Penguin Colony) is a good place to look for spotted gully sharks. From shore, head out to the left side of the bay and look in the caves that are accessible at sand level. It may take some hunting to find the right reef structure with the biggest caves but the bay is not that big. Try to quietly enter each cave with no lights on and wait till your eyes adjust to see if there are any spotted gully sharks milling around. Chances are that in the bigger caves there will be one or two.
More costly but far more convenient, take a charter with Shark Explorers out of Simon's Town or join Big Fish Expeditions on their yearly South African Shark Safari.
Big Fish Expeditions: