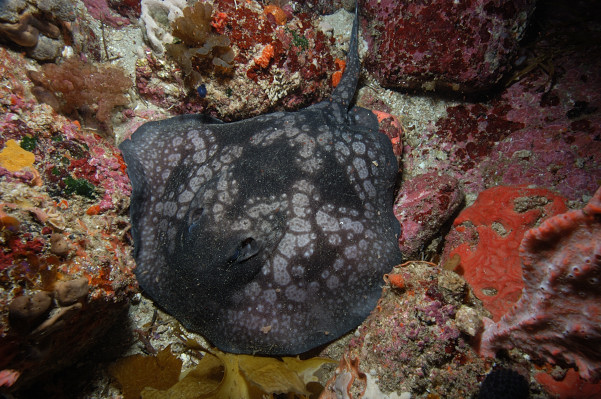 Photograph copyright Andy Murch
View more Spotted Stingaree Pictures in the Shark Pictures Database
Common Names: Spotted stingaree
Latin Name: Urolophus
gigas
Family: Urolophidae
Identification: Disc round without prominent point on snout.
Roughly circular, light grey, broken spots create a pattern covering most of the black or darker dorsum. Usually dark in front of eyes, and centrally behind eyes extending into two dark patches on real half of pectoral fins. Pattern of spots extends along tail.
Size: Maximum length approx 70cm
.
Habitat: 2 - 50m.
Often seen buried in sandy sea grass areas. The specimen a
bove was deeply hidden
under a rocky reef.
Abundance and distribution: Southern Australia, from Victoria and Northern Tasmania to at least Albany, WA.
Uncommon.
Behavior:
Buries during the day.
Reproduction: Ovoviviparous.
Conservation Status: Listed as 'Least Concern' by the IUCN. This species appears to be naturally uncommon with a patchy distribution, exhibiting clustering across a relatively broad geographical area. Specific habitat requirements need to be elucidated to determine actual area of occupancy. The biology of this species is largely unknown. It is sometimes caught by otter trawling and gillnets in southeastern Australia, but catches are likely to be small and overall catch susceptibility in these fisheries is considered to be low. Across the major portion of the species' range, fishing pressure is low or absent (i.e., inshore areas of the Great Australian Bight). Furthermore, its occurrence around rocky reefs will provide refuge from trawling. Given that it is naturally uncommon, any increases in catches in the future would need to be closely monitored. At present, however, with a widespread southern Australian range, most of which receives little fishing pressure, the species is assessed as Least Concern.
Photographs: Albany, Western Australia.
Similar species: Circular stingaree - Urolophus circularis shares its western range. A rarely encountered species exibiting a distinct pattern of circular spots similar to U. gigas.
Reaction to divers: The specimen above completely ignored the photographer but this species may be more skittish when encountered in the open.
Diving logistics: Divers usually encounter this species while swimming over sea grass beds. Anywhere in the southern Australian area is probably good for sightings. As I have only encountered this specimen in WA I would like information on common sighting areas further east.
Citations:
Last, P.R. & Marshall, L.J. 2006. Urolophus gigas. The IUCN Red List of Threatened Species 2006: e.T60094A12246413. http://dx.doi.org/10.2305/IUCN.UK.2006.RLTS.T60094A12246413.en .