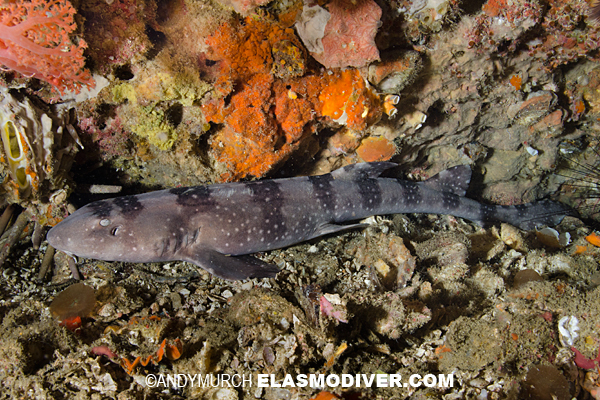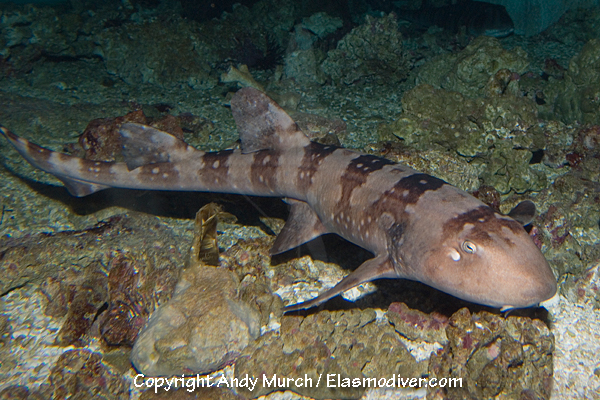 Photograph copyright Andy Murch all rights reserved.
View more Whitespotted Bamboo Shark images in the Shark Pictures Database
Common Names: Whitespotted Bamboo Shark or Bambooshark
Latin Name: Chiloscyllium plagiosum
Family: Hemiscyllidae
Identification: Elongated grey/brown body with 8 or 9 irregular dark saddles. Small light spots on flanks. Anal fin set far back on long thick tail. Slight scalloping or lateral ridges on trunk. Snout bluntly rounded. Short barbells extend from mouth. Spiracle same size as, and positioned below and slightly behind eye.
Size: Maximum length 95cm. 9-12cm at birth.
Habitat: Shallow coral reefs - a secretive reef dweller.
Abundance and distribution: Indo Pacific. Madagascar, India, and South East Asia as far south as Java. East to the Philippines and Japan.
Behavior: Nocturnal. Hides by day in crevices. Hunts for bony fishes and crustaceans.
Reproduction: Oviparous.
Conservation Status: Considered 'Near Threatened' by the IUCN. The majority of its distribution is under substantial and generally unregulated fishing pressure, and this bamboo shark is landed and utilised for human consumption in nearly all countries within its range. It is also prized for the aquarium trade as it survives well for long periods in captivity. Furthermore, pressure on coral reef systems is high over much of its range, with the amount of available habitat for this and similar species being reduced due to extensive degradation/destruction of coral reefs through practices such as dynamite fishing and pollution from terrestrial runoff. Given human population increases, habitat degradation and continued, increasing exploitation of marine resources in the region, the conservation status of this coral reef species is of concern, warranting a Near Threatened assessment. Lack of detailed catch and aquarium trade data precludes a higher threat listing at this time, but the species should be carefully monitored throughout its range, particularly as the threats described are likely to continue to increase.
Citation: Kyne, P.M. & Burgess, G.H. 2006. Chiloscyllium plagiosum. In: IUCN 2013. IUCN Red List of Threatened Species. Version 2013.2. <www.iucnredlist.org>
Photographs: Gato Island, Philippines.
Similar species:
The whitespotted bamboo shark shares its range with a number of other bamboo sharks all of which are easily recognizable by their patterns.
Reaction to divers: May be approached with non-threatening movements but generally very shy and wary of divers. When discovered under ledges, the whitespotted bamboo shark usually tries to wedge itself deeper. If no better cover is available, it will bolt for another hiding place.
Diving logistics: The whitespotted bamboo shark is a common but rarely seen shark inhabiting many popular dive sites in Southeast Asia. Near Malapascua in the Philippines it can be found under ledges around Gato Island.
References and further reading:
Sharks of the World. Leonard Compagno et al.
HOME LINKS TAXONOMY UNDER THREAT BOOKS CONTACT