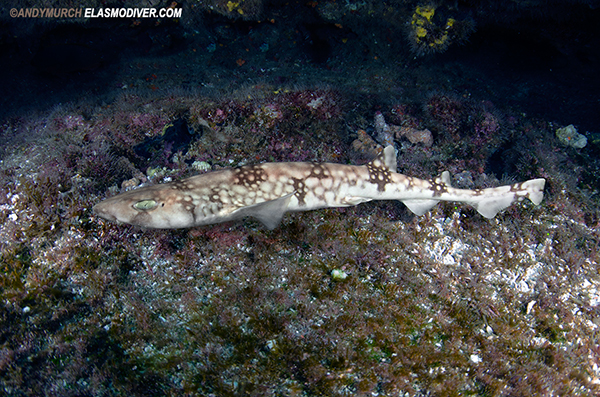 View all available Whitesaddled Catshark Images in the Shark Picture Database
Common Names: Whitesaddled catshark, western catshark, white saddled catshark.
Latin Name: Scyliorhinus hesperius.
Family: Scyliorhinidae.
Identification: A small predominantly cream to beige coloured catshark. Eight or nine squarish dark brown saddles with small lighter spots. Spots may be numerous or sparse. Much lighter diffuse saddles inbetween (hence common name). Flanks are slightly lighter than upper dorsal region, with a network of light spots that may form a honeycomb pattern. Ventral surface pale. First dorsal originates Behind pelvic fin axis. Second dorsal much smaller than first. Teeth have 5 cusps; the central cusp being much larger than the others.
Size: Females reach at least 47cm.
Habitat: Continental slope from 274-457m. Lack of larger specimens in trawls implies that adults inhabit steep or rough terrain not suitable for trawl fishing.
Distribution: Western Atlantic. Mostly Caribbean coast of Central America from Honduras to Colombia. However, I encountered three whitesaddled catsharks in Guatemala while accompanying gill netters in Quetzalito near Puerto Barrios. All were fished up in one gill net from approximately 200m. 1985 two specimens were captured in South Carolina during an experimental crab fishing survey suggesting that the range of Scyliorhinus hesperius may be much more widespread than initially thought.
Behavior: Unknown due to paucity of collected specimens.
Reproduction: Unknown but almost certainly oviparous. The whitesaddled catshark's egg cases are probably laid in pairs.
Conservation Status: Listed as 'Data Deficient' by the IUCN. Rarely encountered and of no interest to fisheries (Compagno, in prep. b). Springer (1979) suggests that the absence of adults in trawl catches may indicate that adults occupy habitat unfavourable to trawling.
Photographs: Quetzalito, Guatemala.
Similar species:
The closest relative of the whitesaddled catshark is the chain catshark - Scyliorhinus retifer. S.retifer has a predominently plain tan body with a chain-like pattern of dark brown lines.
Other species that occur in the area include the Antilles catshark Galeus antillensis (large dark blotches on back), Roughtail catshark Galeus arae (similar to G.antillensis), Longfin sawtail catshark G.cadenati (joined brown saddles along back), Boa catshark Scyliorhinus boa (dusky saddles fringed in small dark spots), Blotched catshark S.meadi (joined dusky saddles along back), Dwarf catshark S.torrei (dark and light saddles covered in fine white spots) and the Cuban ribbontail catshark Eridacnis barbouri (a thin bodied shark with a variegated tail). The whitesaddled catshark also shares some of its range with various abyssal catsharks (apristurus species) but these are generally dark bodied and live in much deeper water.
Reaction to divers: Unknown.
Diving logistics: The whitesaddled catshark inhabits depths beyond the range of recreational scuba divers. If you encounter this catshark in the wild please email elasmodiver.
HOME LINKS TAXONOMY UNDER THREAT BOOKS CONTACT