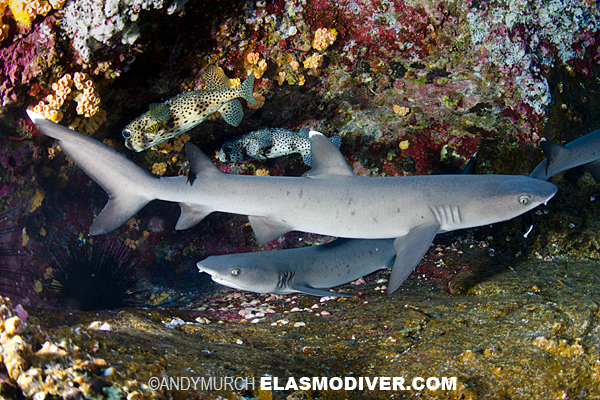 View all available Whitetip Reef Shark Pictures in the Shark Pictures Database
Common Names: Whitetip reef shark, Whitetip shark.
Latin Name: Triaenodon obesus
Family: Carcharhinidae
Identification: Slender body. Dorsum grey to grey/brown sometimes with darker spots or blotches. Ventrum pale. Fins dusky. Dorsal and pelvic fins pointed. First dorsal and upper lobe of caudal fin tipped in white. Small barbells present on wide, flat snout.
Size: Maximum length 210cm. 56 cm at birth.
Habitat: Coral and rocky reef flats / slopes and in lagoons. To 40m.
Abundance and distribution: Found through out the Indo Pacific and in the Eastern Pacific from Islas de Revillagigedo to Galapagos.
Behavior: Rests under ledges, in caves, and in sand gutters between reefs during the day; often in small groups. Hunts for reef fishes, crabs, lobsters, and octopus at night.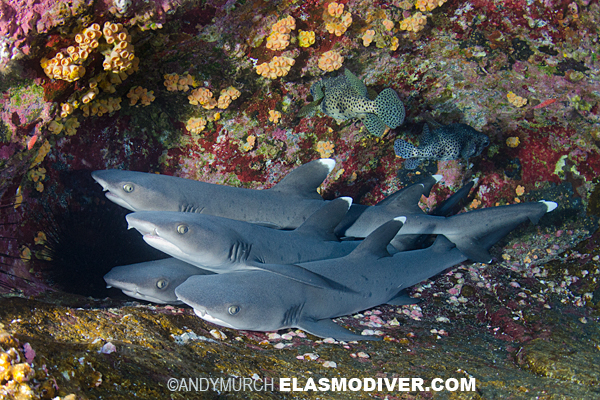 Reproduction: Viviparous. Litter size 1-5. Gestation period 13 months.
Conservation Status: 'Near Threatened' according to the IUCN. Taken in line and net trawl fisheries operating in shallow reef areas, this shark has been recorded as part of the multi-species shark catch taken by tropical fisheries, e.g. Barnett (1996), Hayes (1996) and Keong (1996). Although its life history pattern suggests a moderate capacity for rebound (Smith et al. 1998), heavy fishing pressure inshore and lack of management plan in most places suggest that this species may be under threat in heavily fished areas, including remote tropical reefs (Anderson et al.1998).
Citation: Smale, M.J. 2005. Triaenodon obesus. In: IUCN 2013. IUCN Red List of Threatened Species. Version 2013.2. <www.iucnredlist.org>
Photographs: Roca Partida, Revillagigedo Archipelago, Mexico.
Similar species: The whitetip reef shark is easily distinguished from other carcharhinids by its slender body and habits. There are a number of other whitetipped sharks.
The oceanic whitetip shark Carcharhinus longimanus is much stockier and has long spatulate pectoral fins.
Reaction to divers: When encountered at rest generally lifts off the bottom and swims slowly away. May ignore divers completely if part of a hunting mob. Not considered dangerous unless speared fish are present at which point it may become aggressive.
Diving logistics: The whitetip is encountered on a very regular basis on many dives throughout the tropical Indo Pacific and is usually the most commonly seen shark. At Cocos Island whitetips are seen at night by divers in marauding packs breaking up the reef to get at hidden fish and other prey. The Undersea Hunter runs shark diving expeditions to Cocos throughout the year.