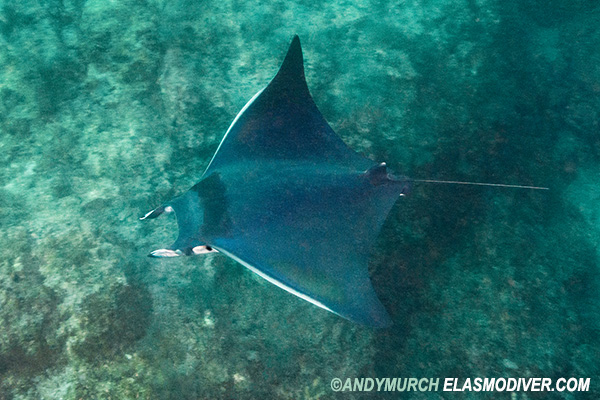 View all available bentfin devil ray images in the Shark Pictures Database
Common Names: Bentfin devil ray, Smoothtail mobula, Thurston's devil ray.
Latin Name: Mobula thurstoni
Family: Mobulidae
Identification: Anterior margin of pectoral fins have a double bend. Dorsum dark grey/blue with black band across shoulders. Wing tips relatively broad. Dorsal fin has a white tip. Tail spines absent. Ventrum white with two black patches. Head extension relatively short. Underslung mouth. Tail length (when intact) about 60% of disc width.
Size: Maximum disc width 1.8m. Disc width at birth 63cm.
Habitat: Most common in inshore waters from the surface to 100m or more.
Abundance and distribution: Circum-tropical. Sea of Cortez to Southern Mexico west to Senegal and South Africa also reported from the Red Sea , Indonesia, and the Gulf of Thailand .
Behavior: Usually seen free swimming singly or in small groups. Leaps clear of the water sometimes somersaulting. Feeds on planktonic organisms. May rest at surface with wingtips protruding or rest on bottom.
Reproduction: Mating in the Sea of Cortez occurs in spring.
Conservation Status: The bentfin devil ray is listed as 'NEAR THREATENED' globally and 'VULNERABLE' in South East Asia by the IUCN. Mobula thurstoni is highly susceptible to gillnets and is known to be landed in Indonesia, México and the Philippines and likely elsewhere across its range. It is a component of the inshore pelagic tuna gillnet fishery in Indonesia where the flesh and gill rakers are utilised. The high value of gill rakers, which are dried and exported for the Asian medicinal market has resulted in recent dramatic increases in fishing for mobulids in Indonesia with targeting now occurring. In the Gulf of California, México, the species is landed in directed artisanal elasmobranch fisheries and as bycatch. In the Philippines the species was historically targeted in a mixed mobulid fishery, and while a ban on fishing for devil rays is presently in place, enforcement is insufficient and landings still occur. Information on catches is not available from other parts of its range, but it is likely being captured elsewhere, certainly in Southeast Asia where target fisheries for whale sharks and manta rays operate. While little species composition data is available, limiting the assessment of current fishing pressures on populations, increased targeting and catches in Indonesia, which may mirror increases elsewhere, is cause for great concern and requires urgent international conservation measures as the species is unlikely to be able to tolerate present levels of exploitation. Its large size (to 180 cm disc width) and fecundity of a single pup per litter emphasizes the limited reproductive potential and low productivity of this species. Mobula thurstoni is assessed as Near Threatened globally, but Vulnerable throughout Southeast Asia where catches and demand are increasing. Vulnerable listings may also be warranted elsewhere if future studies show declines in populations where fished.
Photographs: Isla San Si Puedes, Midriff Islands, Baja.
Similar species: Japanese devil ray (Mobula japonica). Very similar but with straight anterior margin on pectoral fins and no obvious markings on ventral surface. Munk's Mobula (Mobula munkiana). Straight anterior margin of pectoral fins and a more purplish colouration on the dorsal surface. Sicklefin devil ray (Mobula tarapacana). Straight anterior margin of pectoral fins. No white spot on tail.
Reaction to divers: Like most devil rays, the Bentfin Devil ray is difficult to approach unless it is preoccupied with feeding. Moves away when pursued.
Diving logistics: This is a sporadically seen mobula ray but it is reasonably common in the Sea of Cortez at least as far north as the Midriff Islands. Divers should consider a liveaboard dive trip to the Midriff Islands to see this species. Big Fish Expeditions runs yearly trips aboard the Rocio Del Mar. These trips concentrate on elasmobranch species.
Citations:
Clark, T.B., Smith, W.D. & Bizzarro, J.J. 2006. Mobula thurstoni. The IUCN Red List of Threatened Species 2006: e.T60200A12317473. http://dx.doi.org/10.2305/IUCN.UK.2006.RLTS.T60200A12317473.en