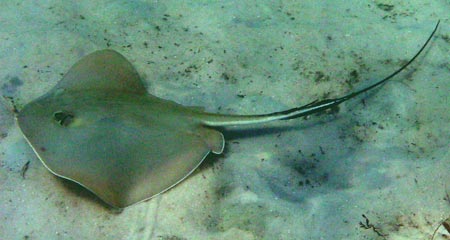 Photograph copyright Andy Murch
Enlarged image More Bluntnose stingray photographs
View all available Bluntnose Stingray Pictures in the Shark Pictures Database
Common Names:
Bluntnose stingray

Latin Name: Dasyatis sayi

Family: Dasyatidae

Identification: Somewhat rhomboid disc. Bluntly rounded snout and rounded anterior disc margin. Younger specimens have a very noticeable bump (about the size of a pea) protruding from the front, centre of the snout. Tail long. Well defined dorsal finfold on tail. Dorsum tan. Ventrum pale. Less tubercles on back than Southern stingray.

Size: Maximum disc width 36 inches.

Habitat: Near shore, estuaries, and sand flats. Intertidal to 10 meters.

Abundance and distribution: Coastal New Jersey to Northern Gulf of Mexico and South to Argentina. Widespread in West Indies.

Behavior: Forages in sand, for fish, clams, worms, and shrimps.

Reproduction: Ovoviviparous.

Observations:

Photographs: Panama City, Florida.

Similar species: Southern stingray, Atlantic stingray.

Reaction to divers: Skittish but will allow a slow approach.

Diving logistics: These rays can be found at the Jetty at St. Andrews State Recreation Area at Panama City. It is possible to snorkel with them or dive but I found them mainly in the 8 to 15ft range, so tanks are not really necessary. Air fills can be obtained from Panama City Dive Centre near the entrance to the park. Two options are to dive the beach on the right side of the rock jetty or swim through the sheltered swimming area and drop into the channel. Make sure you have an incoming tide for clarity and to avoid being swept out into the bay. This is a great area to find rays. On the same dives and snorkels I found Southern stingrays and Atlantic stingrays. I also saw a school of around 25 Devil rays but sadly I didn't have my camera when they showed up.

Other diving locations submitted by readers: I spoke to the curator of Mote Marine Aquarium in Sarasota regarding their Bluntnose ray and he told me that they had not had a Bluntnose stingray in the Aquarium before as they are not commonly encountered. This leads me believe that the abundance of them around Panama City at that time may have been unusually high.

References:
Fishbase.com
Scott W. Michael - Reef Sharks and Rays of the World.
HOME LINKS TAXONOMY BOOKS CONTACT