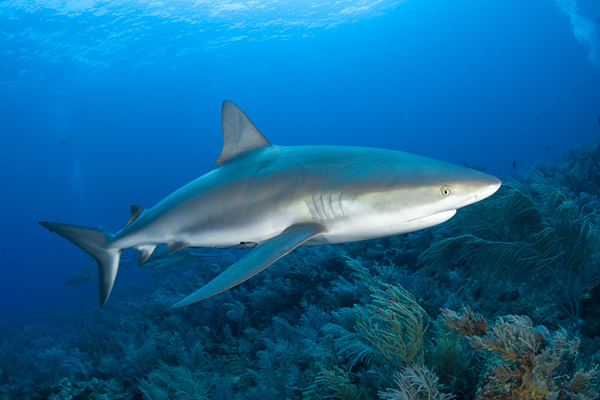 View all available Caribbean Reef Shark Pictures in the Shark Pictures Database
Common Names: Caribbean reef shark, Reef shark,
Latin Name: Carcharhinus perezi
Family: Carcharhinidae
Identification: Trailing tips of pectoral, pelvic, anal, and caudal fins dusky. Leading edge of first dorsal posterior to trailing edge of pectoral. Snout bluntly rounded. Low interdorsal ridge. Heavy bodied. Overall coloration greyish brown to grey. Underside white.
Size: Maximum length 3 metres. 70 cm at birth.
Habitat: Reefs and shallows. To 45m.
Abundance and distribution: Florida to Brazil. Fished out of many areas but still abundant in the Bahamas where some degree of protection has been granted due to tourist dollars being generated by shark feeds. Most commonly observed requiem shark on Caribbean reefs.
Behavior: Cruises over sand and reefs in search of prey. Often seen with a dark variegated leach trailing from first dorsal fin.
Reproduction: Viviparous.
Observations:
Photographs: Outer Bahamas.
Similar species: Blacktip shark distinguished by pale to white anal fin and silver white streak on flank. Dusky shark distinguished by thinner body and larger gill slits. Bull shark distinguished by absence of or vague dusky fin tips, large acutely pointed dorsal over pectorals and no interdorsal ridge.
Reaction to divers: Usually moves away unless in a baited situation. May become very bold and make close passes at divers. Can become very persistent when provoked by spear fishing or chumming and eventually attack divers.
Diving logistics: Many operators in the Bahamas run dedicated shark feeds at which the most common shark is the Caribbean reef. Walkers cay has a "chumsicle" dive at which a frozen ball of fish is suspended from the boat. This dive attracts many Caribbean reef sharks and Blacktips as well as other occasional visitors. Grand Bahama has multiple operators who run shark feeds where the bait is taken down by a diver (sometimes in a chain mail suit) and the sharks are fed individually with the dive master controlling the pace. Some operators also demonstrate tonic immobility on the sharks in which an individual is flipped over and falls into a trance like state until released right side up apparently unharmed. See the links page under Bahamas for a list of operators.
Jim and Anna Abernethy run week long Hammerhead and Tiger shark trips to the Bahamas from Palm Beach. Chum is used to attract the sharks with which they have had great success. These shark safaris also attract many Caribbean reef sharks and participants should be aware that no cages are used. In my opinion the experience of diving with such large sharks without the restrictions of a cage is second to none. Read the trip report entitled: Hammers and Tigers in the Bahamas.
Other diving locations submitted by readers:
References and further reading:
Reef Fish Identification. Florida, Caribbean, Bahamas. Paul Humann. New World Publications.
Reef Sharks and Rays of the World. Scott W. Michael. Sea Challengers.
Sharks and Rays - Elasmobranch Guide of the World. Ralf M. Hennemann. IKAN.
HOME LINKS TAXONOMY UNDER THREAT BOOKS CONTACT