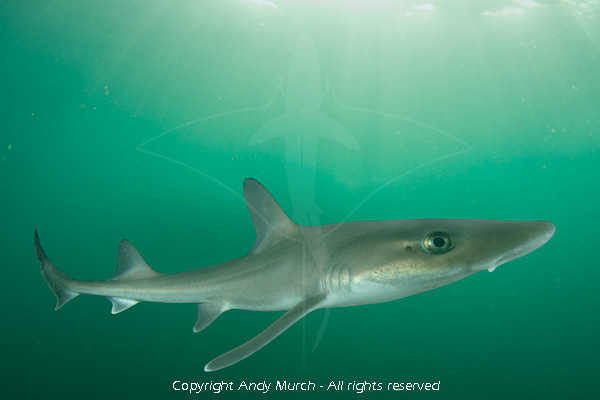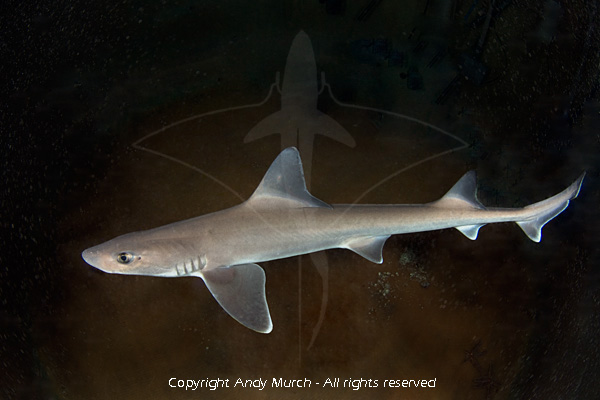 Photographs copyright Andy Murch. All rights reserved.
View all available Dusky smoothhound shark / smooth dogfish pictures in the Shark Pictures Database
Common Names: Smooth dogfish, dusky smoothhound, sand shark, mud shark, smooth dog, smooth hound, grayfish.
Latin Name: Mustelus canis.
Mustelus canis is split into two subspecies M.canis canis (continental shelf) and M.canis insularis (Caribbean). M.canis canis has a slightly higher first dorsal, shorter terminal caudal lobe and juveniles have less distinct white fin margins.
Family: Triakidae
- Houndsharks
Identification:
Long slender body. Dorsum plain brown. Ventrum pale. First dorsal large and rounded. Juveniles have dusky dorsal and caudal fins. Fins have pale to white margins probably fading towards adulthood. Caudal fin deeply notched. Flat, plate-like teeth. Interdorsal ridge present. Iris golden. Pupil large and rounded.
Size:
Maximum recorded size 150cm. Size at birth 34 - 39cm.
Habitat:
Mud and sand flats. From intertidal shallows to continental drop offs at 200m and rarely to 360m. More likely in shallower water (<18m) in northern part of range e.g. Chesapeake Bay. Common around 100 meters in northern Gulf of Mexico.
Caribbean subspecies prefers rough rocky bottoms from 137m to 808m.
Abundance and distribution:
Western North Atlantic Ocean and Caribbean Sea. From Eastern Canada possibly as far south as Venezuela and Southern Brazil to Argentina. Abundant in some areas.
Diet:
Hunts over sand in search of burrowing invertebrates. A voracious predator of lobster. Diet consists of crustaceans, molluscs and small fishes - menhaden among others.
Behavior:
In its northern range the Dusky smoothhound or smooth dogfish migrates north and inshore in the summer.
Reproduction:
Viviparous with yolk sac placenta. Recorded litter size 4-20. Gestation period approx. 10 months. Matures in 1-2 years.
IUCN Red List Status:
Near Threatened.
IUCN quote: "Recently a gillnet fishery for dusky smoothhounds has started on the eastern shore of Virginia and North Carolina. Total landings of Dusky Smoothhounds in Virginia waters remained fairly low (less than 25,000 lbs or 11 t) until 1993 when landings exceeded 220,000 pounds (100 t). Total landings remained around this level for two more years but decreased to around 140,000 pounds (63.5 t) in 1996 (Virginia Marine Resources Commission unpubl.). In North Carolina Dusky Smoothhound landings have only been reported separately from Spiny Dogfish (Squalus acanthias) landings since 1995. In 1995 total landings reached 2,182,577 lb (990 t) but dropped in 1996 to 463,047 pounds (210 t) (North Carolina Division of Marine Fisheries unpubl.)".
Photographs:
Rhode Island, USA. The dusky smoothhound sharks portrayed in these images are captive specimens. The final images are composite reconstructions.
Special thanks to Biomes Marine Biology Center for granting permission to shoot in their facility.
Similar species:
Sympatric species include the Florida smoothhound M.norrisi (commonly listed as having upper labial furrows shorter than lower) which may be synonymous with M.canis and
the Gulf smoothhound M.sinusmexicanus which has a pavement of high crowned teeth.
Reaction to divers:
A shy species that is difficult to approach in the northern part of its range and lives too deep to see further south.
Diving logistics:
Divers sometimes encounter smooth dogfish in shallow bays in New England but encounters are rare.
HOME LINKS TAXONOMY UNDER THREAT BOOKS CONTACT