SHARK INFO
SHARK
SHARK EVOLUTION
SHARK DIVING
SHARK DIVING 101
CONSERVATION
PHOTOGRAPHY
SHARK PHOTO TIPS
RESOURCES
WEB STUFF
WHAT IS ELASMODIVER?
Not just a huge collection of Shark Pictures: Elasmodiver.com contains images of sharks, skates, rays, and a few chimaera's from around the world. Elasmodiver began as a simple web based shark field guide to help divers find the best places to encounter the different species of sharks and rays that live in shallow water but it has slowly evolved into a much larger project containing information on all aspects of shark diving and shark photography.
There are now more than 10,000 shark pictures and sections on shark evolution, biology, and conservation. There is a large library of reviewed shark books, a constantly updated shark taxonomy page, a monster list of shark links, and deeper in the site there are numerous articles and stories about shark encounters. Elasmodiver is now so difficult to check for updates, that new information and pictures are listed on an Elasmodiver Updates Page that can be accessed here: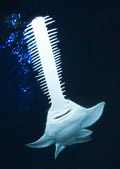 _
ELASMOBRANCH LOCOMOTION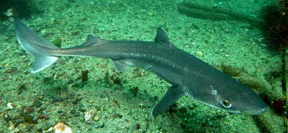 Shark locomotion Sharks have fairly immobile pectoral fins that do not aid in locomotion but serve in guidance and add lift in the same manner as airplane wings. All of a classic shaped shark's forward propulsion comes from the rhythmic sine wave that is created by its body snaking through the water. The back and forth motion of its head creates areas of high and low pressure which the rest of its body slips into. Its tail fin gives the final flick from within this low-pressure space allowing the shark to slide through the water with the minimum possible effort.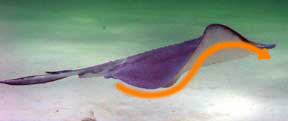 Ray locomotion - Rays and skates spend much of their time lying motionless on the seafloor or riverbed. Their tails are in many instances vestigial and in certain species non-existent. Although stingray and skate pectoral fins are attached along their entire basal length, their outer margins are highly flexible. This flexibility allows them to roll their pectoral fins through the water either backwards or forwards. The ray is then propelled backward or forward on this pressure wave. At full speed this movement is accentuated from a fin ripple into a flapping motion. The Eagle, Manta and Mobula rays employ this flapping motion all the time. Electric rays, guitarfish, and sawfish, have retained more "shark like" streamlined bodies. They use tail propulsion for forward momentum and often use their pectoral fins to stand above the substrate. This stance probably allows them to accelerate forward more quickly. Electric rays also have the ability to hop forward on their pelvic fins.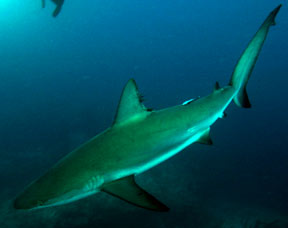 Sink or swim. Fish sink. Fish are denser than the water around them and therefore need help to stay motionless in the water column. The bony fishes have solved this problem by evolving a swim bladder. This is a gas filled chamber in their bodies that makes them neutrally buoyant. Sharks and rays do not have this swim bladder but possess a highly enlarged, oil filled liver. Whilst their livers are less efficient than swim bladders for maintaining neutral buoyancy, they have the advantage that they can make fast vertical migrations through the water column without having to try to equalize gasses. The trade off however is that the majority of sharks have to swim forward relying on the lift this creates to maintain their depth. As sharks age their girth often increases proportionately more than their length and fin size. Having a greater mass requires a proportionately greater still amount of oil. To this end large mature sharks have extremely large livers.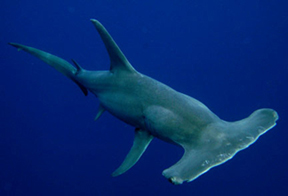 The pectoral fins in many families of sharks are ideally shaped to add lift. The ocean going Hammerheads that are often considered the most highly evolved of open ocean sharks have taken this science one stage further with the hydrodynamic shape of their heads. Scientists now believe that this trait is primarily designed for lift but their widened heads may also serve to better triangulate their electro-receptors spaced across the snout and also aid in pinning prey (stingrays) to the seabed. A major repercussion of this constantly swimming lifestyle is that water is naturally flushed over the gills. Therefore water pumping musculature which is present in less active species is underdeveloped in open ocean sharks hindering their ability to rest should the opportunity or necessity present itself.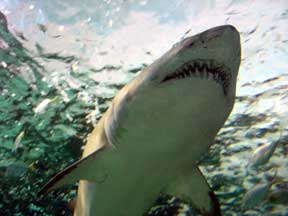 Sandtiger sharks (Odontaspidae) have developed their own solution to the problem of negative buoyancy. These sharks appear to levitate in mid water apparently defying gravity. In order to do this sandtigers swallow air at the surface counteracting their tendency to sink. This solution allows them to hover near the reef without expending energy. Less energy expenditure equals less time spent hunting. This docile behavior has made sandtigers popular in public aquariums where they seem content to remain static without bumping the glass.
Turbulence is a major factor in the quest for speed. All objects disturb the medium through which they pass. In air this a minor consideration at most speeds but in water which is 800 times denser than air the turbulence created is enough to slow a moving object to a crawl. As in air, when an object moves increasingly faster the drag increases at a compound rate until a speed is reached where the force required to increase the speed any further becomes impractical. The fusiform bodies of sharks are designed to cut cleanly through the water but body shape alone does not explain some sharks ability to exceed all expectations based on a size to speed ratio. So how do large sharks such as the Mako attain speeds fast enough to catch a tuna? The answer lies in the dermal denticles that are imbedded in the sharks skin. Incredibly, the skin of many sharks has evolved to channel the water smoothly along the sharks body without creating back eddies or waves which the shark would have to push against. These minute channels known as riblets are so efficient at reducing drag that racing yachts have successfully employed the same technology to shorten their times.