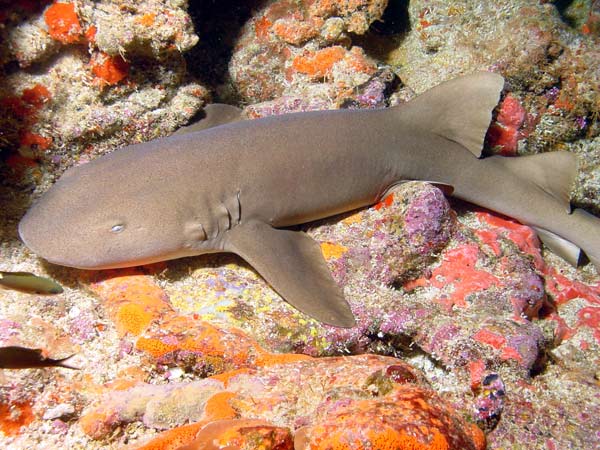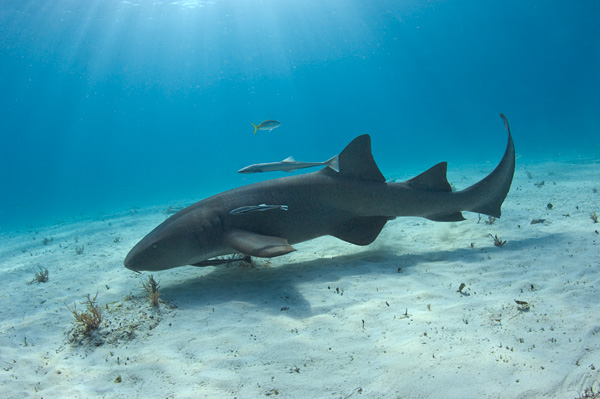 View all available Nurse Shark Pictures in the Shark Pictures Database
Common Names:
Nurse shark, Common nurse shark, Atlantic nurse shark.

Latin Name: Ginglymostoma cirratum.

Family: Ginglymostomatidae

Identification: Uniformly brown or gray body, paling slightly towards belly. Two dorsal fins of almost equal size close to tail. Head bulbous with small mouth. Mouth has a barbell on each side. Tail narrow with a large upper caudal lobe and no distinct lower lobe.

Size: 5 to 9ft max. 14ft.

Habitat: Found in many environments including reef flats, sandy areas, lagoons, and mangroves. From intertidal to 150ft.

Abundance: This is the most commonly encountered shark on most Caribbean reefs. It can be locally common from Florida to Brazil.

Distribution: On the Atlantic coast of the Americas from Rhode Island to Brazil. Bermuda and the Eastern Atlantic from Senegal to Gabon. Reports of Atlantic nurse sharks in the Eastern Pacific are misidentifications of the Pacific Nurse Shark Ginglymostoma unami.

Behavior: Nocturnal. Sleeps under overhangs of reefs, or in mangroves during the day. Often found sleeping in small groups. At night forages for spiny lobsters, crabs, octopus, and sea urchins etc. May inhabit the same area for many years.

Reproduction: Ovoviviparous.

Conservation Status: Surprisingly, the Atlantic Nurse Shark is listed as Data deficient by the IUCN. Populations in some areas of the Caribbean and the Bahamas are extremely well documented and populations in those (often protected) areas appear to be stable.
However, in Brazil the Nurse Shark is consumed locally by fishermen, who incidentally or actively capture the species. In Venezuela it is marketed salt dried (Cervigón and Alcalá 1999). Major threats include incidental and deliberate capture in coastal fisheries, spear fishing and capture for the ornamental fish trade, and indirectly, the impacts on the coastal zone, particularly on reef areas which constitute its preferred habitat. Human impacts (including pollution), increases in nutrient loading as a result of run-off after deforestation, and disturbance from tourism are all detrimental to this species' shallow reef habitat. Actively targeted by Panamanian artisanal fishers with lines and gillnets. Fished by artisanal fishers along the Colombian coast with nets and lines. Nurse sharks are also harvested in parts of the Caribbean for their skin.
In the United States, they are occasionally captured in the bottom longline fishery, however, nearly all are released and post-release survivorship is high.
Utilisation: Nurse Sharks are fished in Panama for their fins and meat (US$ 0.75 per Lb) (Monzini 2004). In Colombia nurse sharks are mostly targetted for the skin while meat is usually transformed into animal food (Cervigon et al. 1999). In Panama, juveniles are also collected for public and private aquarium (Monzini 2004). Information on trade and utilization is lacking from other parts of the species' range.

Photographs: Sail rock, Grenadines, St Vincent (top). Tiger Beach, Bahamas (bottom).

Similar species: The common nurse shark is the only member of thee nurse shark family found in the Atlantic. Reports from the eastern Pacific represent occurrences of the newly described Pacific Nurse Shark Ginglymostoma unami.

Reaction to divers: Lies motionless for much of the day unless closely harassed or in the vicinity of a shark feed. Will bite if provoked. Nurse sharks are opportunistic and become regular visitors to shark feeds.

Diving logistics: Nurse sharks are extremely common sights in many areas of Florida, the Bahamas and the Caribbean. One particularly good place to dive with nurse sharks is at South Bimini Island in the Bahamas. From November to March, dive operators run Great Hammerhead Shark trips to a particular spot near Bimini Sands Resort. Although not the target species, score of nurse sharks often show up and settle down in front of the feeding crates to the chagrin of the feeders who then have to contend with them stirring up sand and trying to steel bait from the incoming hammerheads.

Citation(s):
Rosa, R.S., Castro, A.L.F., Furtado, M., Monzini, J. & Grubbs, R.D. 2006. Ginglymostoma cirratum. The IUCN Red List of Threatened Species 2006: e.T60223A12325895. http://dx.doi.org/10.2305/IUCN.UK.2006.RLTS.T60223A12325895.en. Downloaded on 02 April 2019.