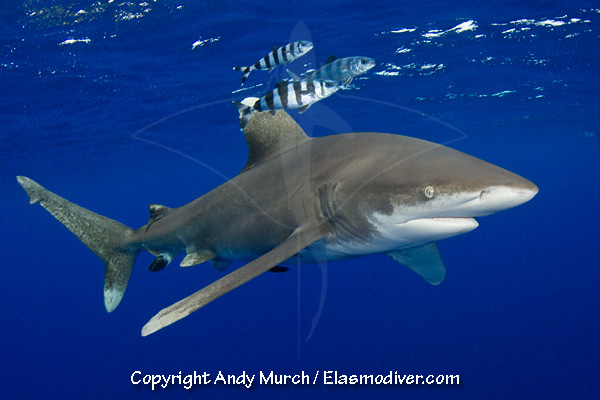 Photograph by Kevin Moore
View all available Oceanic Whitetip Shark Images in the Shark Pictures Database
Common Names: Oceanic whitetip shark, Whitetip shark, white-tipped shark, Whitetip whaler.
Latin Name: Carcharhinus longimanus
Family: Carcharhinidae
Identification: Long, broadly rounded pectoral and first dorsal fins. Blotchy white colouration on tips of pectoral, first dorsal, pelvic, and lower caudal fins. Second dorsal and anal fin tipped in black. Dorsal colouration olive brown to bronze. Ventral surface pale.
Size: Maximum length 3.95m. Usually under 3m.
60 to 75cm at birth.
Habitat: Open Ocean. May cruise close to isolated islets but is not a common inshore visitor. To at least 180m depth.
Abundance and distribution: Circumtropical and temperate. Recorded in the Western Atlantic from New York to Uruguay. Commonly seen around the Hawaiian Islands. In some places most common open ocean shark.
Behavior: Cruises over deep reefs and through open oceanic regions in search of oceanic bony fishes such as tuna. Sometimes follows pods of pilot whales probably due to their ability
to find squid and may feed on injured individuals. Oceanic whitetips can lift their noses out of the water and sniff the air to find prey over greater distances than by following water borne scent trails. May congregate around food sources such as whale carcasses (where it dominates similarly sized sharks such as blues) but most often solitary.
Reproduction: Viviparous. Litter size 1 - 15 depending on the size of the mother. Gestation period around 12 months.
Observations:
Often seen with an escort of pilot fish.
Photographs: East Africa.
Similar species:
Only vaguely similar to the blue shark (Prionace glauca) which shares much of its range.
Reaction to divers: An extremely inquisitive shark. The Oceanic whitetip may circle swimmers or divers repeatedly if it thinks it may have a potential meal. Extreme caution should be shown around this animal especially larger individuals. It is responsible for many attacks on ship wreck victims as documented after the sinking of the ship Nova Scotia off the Natal Coast during the second world war.
Diving logistics: Although open ocean diving with Oceanic whitetips is a hit or miss affair some places where they have been seen regularly by divers are: Hawaii's Kona Coast, Various Red Sea locations including Ras Mohammad, and Australia's Jervis Bay. The Kona Agressor II offers a cage dive that is reputedly successful year round. Read the report submitted by Kevin Moore below.
Other diving locations submitted by readers:
I have attached a picture of an oceanic white-tip taken at elphinestone reef red sea last month. This was one of five that have been hanging round this reef for several months now. This one is not best pleased at my presence. Unfortunately some idiots on a liveaboard were dangling a chicken on a rope teasing it up near the surface and when it saw me, viewed me as a threat to it's meal. After a good push into my camera and a second pass pushing into my shoulder I just gently sank down a few metres and it seemed to accept this as me backing down and it returned to it's chicken.
Have several other pictures if required. Kevin Moore, Blackpool, UK.
Further reading:
Paul Humann - Reef Fish Identification. Florida Caribbean Bahamas.
Reef Sharks and Rays of the World. Scott W. Michael. Sea Challengers.
Sharks and Rays - Elasmobranch Guide of the World. Ralf M. Hennemann. IKAN.
Sharks - Andrea and Antonella Ferrari. Firefly
HOME LINKS TAXONOMY UNDER THREAT BOOKS CONTACT