The Shark Friendly Restaurant Initiative
An aspect of the Predators in Peril Project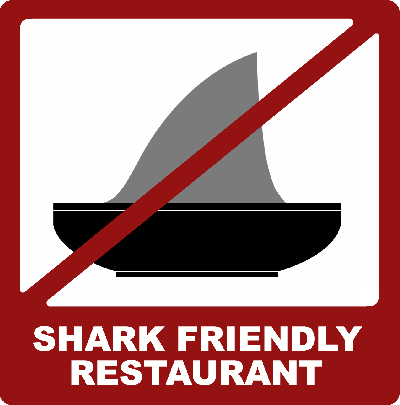 SHARKS ARE IN TROUBLE
Are you ready to help?
Our Simple Mission
To encourage restaurant owners to take sharks off of their menus through education and polite coercion.
How You Can Play a Part
Take a field trip around your town. Make a list of all the restaurants that have shark fin soup, shark steaks and other shark dishes on their menus. Make another list of seafood restaurants, sushi bars and oriental restaurants that DO NOT sell shark dishes.
Download and print or photocopy our Shark Friendly Restaurant Information Sheet.
Order enough Shark Friendly Restaurant Decals to present to all the restaurants that don't sell shark dishes and ask for extras for restaurants that may have a change of heart.
We
Approach the restaurants that DON'T sell shark fins FIRST. Explain the problems that sharks are facing as best you can. Give them a fact sheet and thank them for their responsible attitude. Offer them a Shark Friendly Restaurant Decal and explain to them that displaying the decal informs their customers that they are a responsible eco-minded establishment.
Email us with a list of Restaurant Names and Addresses. Include their website address if they have one. We will add them to the Shark Friendly Restaurant Database that will be built over the summer of 2010.
Contact your local eating guides and entertainment magazines to tell them about the project. Don't be shy, magazines need news. This may be the best story they have had in a while. Tell them about all the restaurants that are proudly displaying the decal. Make sure you give them access to a high resolution jpg of the Shark Friendly Restaurant Symbol so that they can print it in their magazine.
Now that you have created a movement here comes the challenging bit...
Armed with your success you are ready to approach restaurants that still sell shark dishes. Here is some advice:
Approach restaurant managers and owners when they are least busy.
Dress smartly - you will be taken more seriously.
Be polite at all times - you will get further and it is a requirement of the initiative.
If they let you, present the facts. If not, ask if you can leave them a fact sheet.
Show them a decal but DO NOT give them one until they have changed their menu.
Impress on them that a growing number of consumers are looking for change and tell them how many restaurants are already displaying the decal in your town.
Be patient. Rome wasn't built in a day. Even if they initially say no, follow up with a second visit once they have had time to notice other restaurants with the decal. Nobody wants to be first but if they realize that they are missing out on a trend they may have a change of heart.
Tell us about your successes. We'll publish your stories on Elasmodiver to encourage more people to help make the world a shark friendly place to eat.
K
DOWNLOAD THE SHARK FRIENDLY FACT SHEET

Visit the Predators in Peril Page to find out about other ways that you can help protect sharks