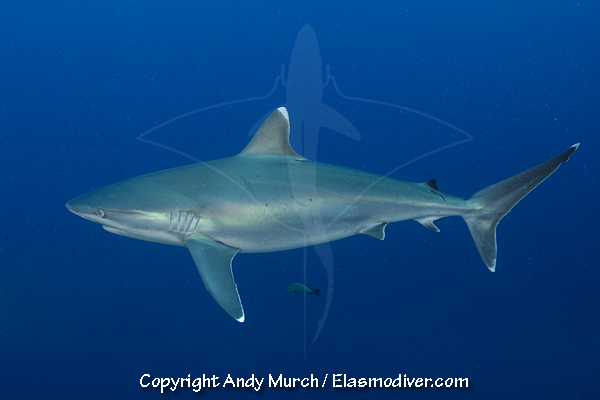 View all available silvertip shark images in the Shark Pictures Database
Common Names: Silvertip shark
Latin Name: Carcharhinus albimarginatus
Family: Carcharhinidae
Identification: White tips on trailing margins of dorsal, pectoral, and caudal fins (and to a lesser degree on pelvic and anal fins). Stout body. Gray to bluish gray upper body. Underside pale to white.
Size: Maximum length 3 metres. 63 - 68cm at birth.
Habitat: Deeper off shore reefs, isolated islets, and continental drop offs. Intertidal to usually below 30 meters.
Abundance and distribution: In the Indian Ocean from the Red Sea to Southern Africa. In the Pacific from Japan to Australia and across to Columbia. A regular visitor at Cocos Island.
Behavior: Territorial. Seen singly, in pairs, and in small aggregations. Cruises reef faces usually in deep water. Feeds on benthic, reef, and pelagic fishes such as scorpionfishes, parrotfishes, tuna, and small sharks.
Reproduction: Viviparous. Litter number 1 - 11. Mating obviously an aggressive activity as females have been observed with mating wounds including the top of the first dorsal bitten off.
Conservation Status:
Near Threatened. According to the IUCN, silvertip sharks are subjected to bycatch in high seas fisheries and in artisanal longline, gillnet and trawl fisheries throughout its range, and the number of pelagic sharks landed by fishing fleets in all oceans has become increasingly important in recent years. The meat, teeth and jaws are sold locally and fins, skin and cartilage are exported. Few data are available, however there is evidence to suggest that Indonesian fisheries have extirpated local populations of this species from Scott Reef in northern Australia and declines are suspected elsewhere. This species? site-specificity, fragmented populations and life history characteristics indicate that even remote populations are highly vulnerable to target shark fisheries. This information, combined with actual and potential levels of exploitation throughout its range result in a global assessment of Near Threatened, based on suspected overall population declines approaching 30%.
Photographs: Rangiroa, French Polynesia.
Similar species: Gray Reef Shark (Carcharhinus amblyrhynchos) has similarly coloured dorsal fin but all other fins have black tips.
Reaction to divers: Usually shy moves away unless in a baited situation. I have observed extremely aggressive behaviour as soon as bait was introduced. During one feed in Burma two Silvertips hit the bait so hard that they carried into the reef with a resounding crash, breaking coral and thrashing wildly. Divers have been reported to be attacked during shark feeds in Micronesia and New Guinea.
Diving logistics:
There are silvertip shark feeds on Rangiroa in French Polynesia and there are also a number of places where natural encounters are very common such as the south pass of Fakarava, where silvertips mingle with enormous schools of grey reef sharks.
Organised trips once ran out of Phuket, Thailand to the famed Burma Banks especially Silvertip Bank where Silvertips were regularly encountered during staged shark feeds. Recently the sharks appearing have declined in number due to longlining.
Other than French Polynesia, diving destinations with frequent sightings include: Socorro Islands off Baja, Cocos Island, Papua New Guinea, Eastern and Western Australia and Micronesia.
References and further reading:
Reef Sharks and Rays of the World. Scott W. Michael. Sea Challengers.
Sharks and Rays - Elasmobranch Guide of the World. Ralf M. Hennemann. IKAN.
IUCN Redlist. http://www.iucnredlist.org/apps/redlist/details/161526/0
HOME LINKS TAXONOMY UNDER THREAT BOOKS CONTACT