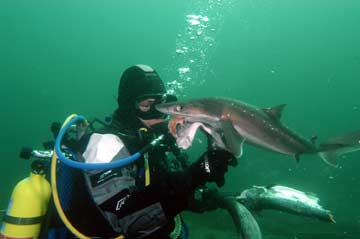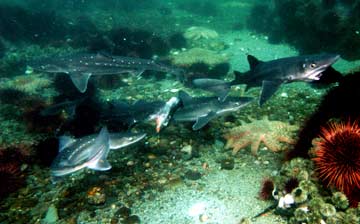 Whilst the debate on Spiny dogfish quotas rages on America's eastern seaboard, a group of divers from Western Canada head up to the Gulf Islands and find more Dogfish than they can shake an Atlantic Salmon at.
Nestled between Vancouver Island and the Canadian mainland, Quadra Island boasts some of the most colorful and intense "non tropical" diving in the world. Once a sleepy fishing community, Quadra now caters to weekend warriors looking for thrills and chills as they are swept along dramatic walls bristling with strawberry anemones and bright orange cup corals, past wide eyed lingcod and Giant Pacific Octopus. But, the highlight of any diver's trip to Quadra is the chance to dive with schooling dogfish, and during the months of July and August the Dogfish don't let them down.
We traveled up from Victoria and jumped on the ferry across to Quadra to hook up with Mike Richmond from DynaMike Dive Charters. Mike has been diving on Quadra, on and off for the last 30 years. A few years back he built a lodge for those intrepid divers prepared to brave the cold, current swept waters, and having sampled some of Quadra's spectacular walls we were eager for him to arrange a dive with the dogfish.
For some of the divers this was their first shark encounter and a great way to get up close and personal with "jaws" scaled down to a non-threatening size. Like many in our group Jill Yoneda was excited but a little apprehensive as Mike pulled up to his favorite spot for playing with the doggies. We tethered to a mooring to stop the ever present current from dragging us away and Mike pulled out a salmon-filled mesh bag. As he explained, this was to be a freestyle shark feeding experience. One of us would head down the anchor line and settle onto the bottom with the goody bag full of salmon. The rest of us would follow, helping ourselves to fish if we desired. It sounded pretty straight forward and one by one we jumped in and dragged our way down the mooring line into the mist.
As I descended the dogs darted in and out of the fog, and touching down on the sandy bottom at 35ft I was immediately swarmed by curious little sharks about 3 feet long with long, pointy noses and big sappy eyes. Pulling my camera against the current I worked my way over to the doggy bag and grabbed a salmon. I waggled it around in the current trying to mimic a wounded fish and caught the attention of the closest sharks. They idled over and nosed me a little until the first one figured out what was food and what was neoprene and then it latched on and went berserk. As soon as its jaws closed around the fish it began to thrash wildly just as its bigger cousins do. It occurred to me that I'd played this game before; if you've ever wrestled for a stick with a big dog you'll know the feeling. It was soon joined by two of its friends and I held on with my left hand and snapped away on the shutter with my right.
As more and more dogfish drifted into the scene I let go of the dwindling salmon and floated along behind the ball of sharks watching them rip it apart. Eventually I grabbed a kelp frond and started the laborious task of dragging myself back to the other divers lost up current somewhere in the mist. As I pulled myself along I tried to count the sharks drifting effortlessly by me; fifty, one hundred, two? The parade was endless. As the group came into view, there was Jill kneeling on the sand holding onto three salmon that were being wrestled away from her by half a dozen dogfish. Mark, her husband, was throwing salmon up into the water to watch the sharks dive-bomb them from all directions, and as I looked around taking in the whole shark infested scene, I thought to myself that it doesn't get much more fun than this. I grabbed another fish and was swept away down stream again inside a big ball of sharks and continued to claw my way back to the group until my air gauge was empty. Finally I rose upwards from the still circling sharks until they were no more than shadows in the fog and drifted away.
One by one Mike picked us up as we floated along in the frigid water and we sat there grinning at each other on deck as the words tumbled out of us. By the time we had reached the lodge we'd booked up this weekend for next year.
Back to Elasmodiver Trip Reports Elasmodiver Home