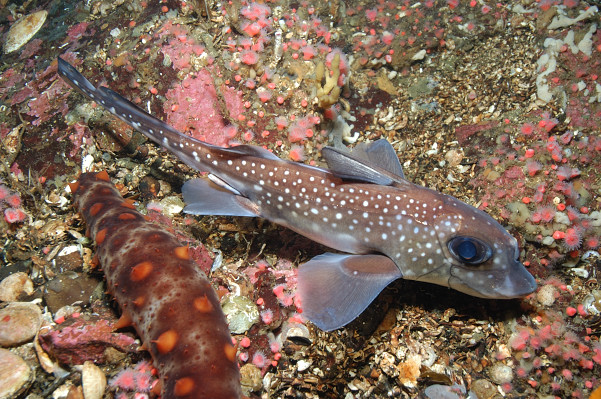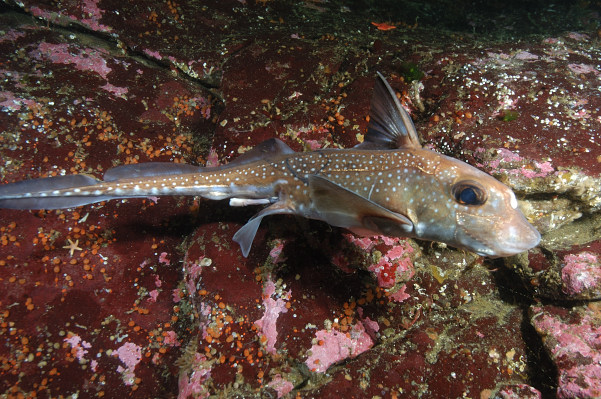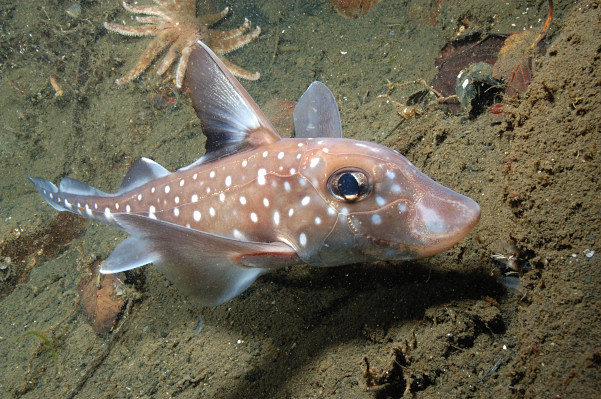 View all available Spotted Ratfish Pictures in the Shark Pictures Database
Common Names: Spotted ratfish, Ghostshark.
Latin Name: Hydrolagus colliei
Family: chimaeridae
Identification: Broad, flat, duckbill shaped snout containing incisor shaped teeth. Large eyes. Prominent, venomous spine at leading edge of dorsal fin. Tapering tail constitutes almost half overall length. Coloration brown or grey with white spots. Skin smooth and scaleless. Can give off an iridescent, silvery sheen. Triangular pectoral fins well developed. Fins grey or dark.
Size: up to 97cm in length.
Habitat: Sand and mud bottoms and sometimes rocky reefs. from 0 to 3000ft.
Abundance and distribution: From Southeastern Alaska to Central Baja. Common from British Columbia to Northern California.
Behavior: Swims slowly across sand in search of prey. Crushes clams, crabs, and shrimp etc. in forward facing "incisors". Food located primarily by smell. Uses its pectoral fins for locomotion.
Reproduction: Oviparous. After elaborate courtship rituals the female lays a spoon shaped egg capsule. The extrusion process can last 18 to 30 hours and the capsule is retained on thin tendrils for between four to six days until finally caught on the seabed or planted in the sand.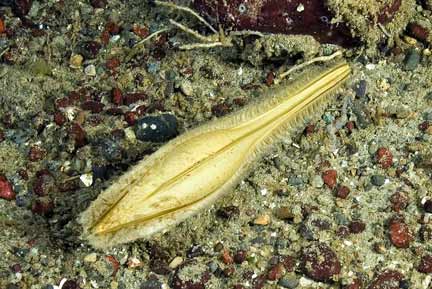 Conservation Status: The IUCN lists the spotted ratfish as LEAST CONCERN. However, although there is no directed fishery for Spotted Ratfish, this species is reported a bycatch in groundfish bottom trawl gear, and discard mortality as bycatch may impact this species. Although reported landings are minimal, it is likely that the number of ratfish discarded at sea is quite large, given their abundance and vulnerability to trawl gear.
Photographs: Ogden point ( ratfish), Maple bay (egg capsule), Vancouver Island, Canada.
Similar species:
Reaction to divers: During the day moves slowly. With patience it is possible to get quite close. Although able to inflict a mildly toxic wound, it is not aggressive and prefers to maintain a safe distance.
Diving logistics: In British Columbia this Chimaera is quite easy to find. One very nice dive is off of the Ogden Point breakwater. This is a 1km long jetty that runs away from shore into about 120ft of water. From about 2/3rds of the way along, the water is deep enough to support ratfish. To find them simply take a compass reading away from the breakwater and head directly out into the sand. The terrain is fairly featureless and unappealing but supports a reasonable number of ratfish. I have seen about 10 ratfish within a few minutes here at about 80ft in November. Ogden Point Breakwater has a full service dive shop at its base and offers air and nitrox fills. The walk out can be a bit challenging in full gear. The breakwater itself offers excellent shore diving with opportunities to see wolf eels and giant pacific octopuses. Spiny dogfish (Squalus acanthias) may be encountered at the far end of the breakwater but this area is deep and current swept.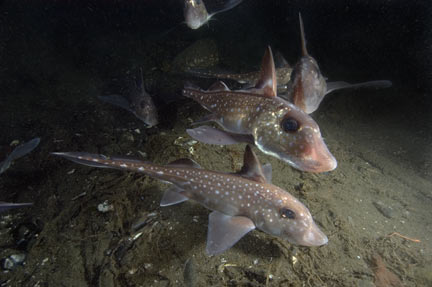 Read the Spotted Ratfish Article on Elasmodiver.
References:
Pacific Fishes of Canada - J.L.Hart. Fisheries Research board of Canada. Ottawa 1973.
Barnett, L.A.K., Ebert, D.A. & Dagit, D.D.
2015. Hydrolagus colliei. The IUCN Red List of Threatened Species2015: e.T60191A80678052.
http://dx.doi.org/10.2305/IUCN.UK.2015-4.RLTS.T60191A80678052.en
.
Downloaded on 14 December 2018.