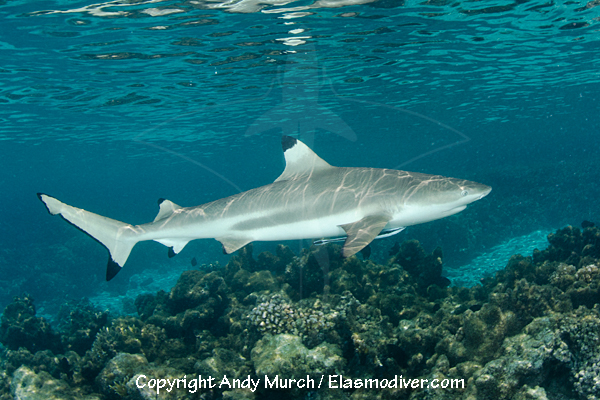 View all available blacktip reef shark images in the Shark Pictures Database

Common Names: Blacktip reef shark, Indo-Pacific blacktip shark, blacktip shark.

Latin Name: Carcharhinus melanopterus

Family: Carcharhinidae

Identification: Well defined black tips on all fins. Dorsal fin tip black/white demarcation line extremely distinct and unique.Dorsal coloration grey/tan. Ventrum white. Snout short and bluntly rounded.

Size: Maximum length 2m. Size at birth 45-75cm.

Habitat: Very shallow coral reef flats and slopes. Occasionally on deeper reefs and in brackish water.

Distribution: Indo-west Pacific Red Sea to southern East Africa including Madagascar. Present along much of the shallow coastline of the Indian Ocean and throughout South East Asia from Southern Japan to northern Australia. Abundant in many South Pacific Island chains including much of French Polynesia. Also present in the Mediterranean (via the Suez Canal).

Behavior: Swims constantly either alone or in small groups. Does not school.

Reproduction: Viviparous. Litter number 2-4.

Conservation Status:

Near Threatened. According to the IUCN, the Blacktip Reef Shark is not a target of major fisheries, but is regularly caught by inshore fisheries in India and Thailand (Compagno 1984b). It is rarely taken by northern Australian gillnet fisheries because of its shallow habitat (Last and Stevens 1994). Although this species is used fresh and dry salted for human consumption and for its liver-oil (Last and Stevens 1994) it is considered to be of little commercial importance (Lyle 1987). Data concerning the take of this species in artisanal fisheries is scarce, but due to its inshore, shallow water habitat it is likely to be a target of such activities. However, it is common in tropical and subtropical waters and not, therefore, considered to be in any immediate danger of serious population depletion worldwide.

Photographs: Fakarava, French Polynesia.

Similar species: The grey reef shark, Galapagos shark and a number of other rarely seen carcharhinids share its indo Pacific range but the blacktip reef shark's clearly defined fin tips make it vitually impossible to misidentify.

Reaction to divers: Blacktip reef sharks may make close passes out of curiosity but they generally keep their distance when pursued unless food is introduced.

Diving logistics:

There are hundreds of locations where blacktip reef sharks can be encountered by divers. One of the easiest locations to get close to them is at a site called the Swimming Pool near Tumakohua Pass on Fakarava, French Polynesia. The sharks can be encountered at close quarters in between dives just by slapping the surface of the sea with an open palm.

Also at this location, upwards of 500 sharks can be seen during a drift through the pass. Other species that you are likely to encounter on the same dive include silvertip sharks, blacktips, and reef whitetips. There are a handful of dive shops on Fakarava that dive the pass.

References and further reading:

.

IUCN Redlist. http://www.iucnredlist.org/apps/redlist/details/39375/0

Sharks of the World - Leonard Compagno et al.