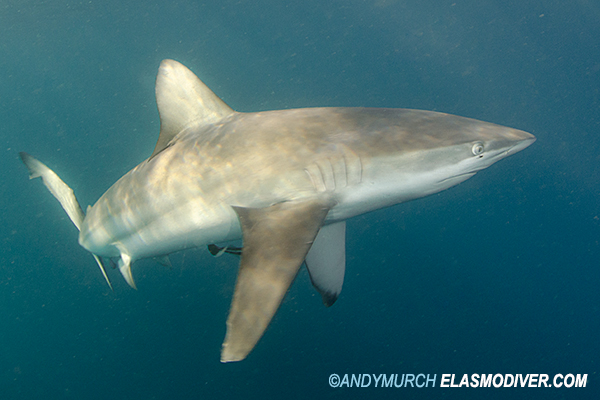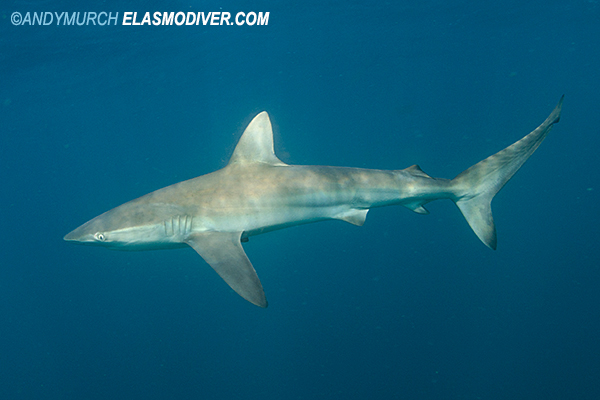 - MORE BRONZE WHALER SHARK IMAGES -
Common Names: Bronze Whaler Shark, Copper Shark, Narrowtooth Shark, Cocktail Shark.
Latin Name: Carcharhinus brachyurus
.
Family: Carcharhinidae.
Identification:
Bronze to grey-green above. White below. Dusky or black tips on most fins. Fairly prominent white line extends along flank. Large, bluntly pointed snout. Dorsal fin short. Pectorals long and pointed. Usually no interdorsal ridge. Teeth with one narrow bent cusp with small serrations.
Size:
Maximum recorded size: 294cm. At maturity: female 240cm. Male 200-229cm.
Habitat:
A coastal midwater species. Inshore from surface to at least 100m.
Abundance and distribution:
Widespread in subtropical and temperate oceans but restricted to coastal habitats. Mostly isolated populations appear in: China Sea, Eastern Australia, Western Australia, New Zealand, Pacific Mexico, Ecuador-Peru, Atlantic Argentina, Mediterranean, West Africa and South Africa.
Large aggregations form off of South Africa during the Annual Sardine Run.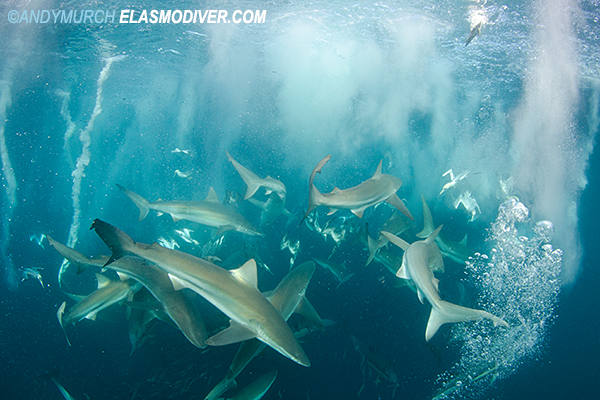 Diet:
Bony fishes, sharks and rays and cephalopods.
Behavior:
An active swimmer. Follows seasonally migratory fish species such as sardines.
Reproduction:
Viviparous. Gestation 1 year. Litter size 13-24 pups.
Photographs:
Port Saint Johns, Wild Coast, South Africa.
Conservation Status: The IUCN lists the bronze whaler shark as globally Near Threatened and Vulnerable in some regions.
Justification: Carcharhinus brachyurus is a large coastal shark with low productivity. Although widespread, regional populations appear to be discrete, and movement of individuals between them is thought infrequent or absent, and it does not appear to be naturally abundant anywhere. C. brachyurus is assessed as Vulnerable in East Asia due to intensive fisheries and the apparent widespread collapse of fisheries for large coastal sharks. Coastal multispecies fisheries in the region are likely to continue to depress the population by taking pregnant females and juveniles. Coastal nursery areas in this region are also at risk from development and pollution.
Catches appear to be stable in Australia. In New Zealand, although there may have been some reduction in population size due to fishing, C. brachyurus is apparently still common throughout its range. Management of this species in New Zealand, Australia and South Africa is simplified by having most, if not all of the population resident within each nation's EEZ, and the species is assessed as Least Concern in these regions. However, it is assessed as Data Deficient in the East Pacific, where there is no information and it appears to be uncommon or rare.
Throughout its range, it is known to be exploited by fisheries, but landings are grouped together with other Carcharhinus species, meaning any population declines are likely to go unnoticed, and its coastal nursery areas are potentially vulnerable to development and pollution. This, together with life history characteristics that make it especially vulnerable to overfishing has led to the global assessment of C. brachyurus as Near Threatened. The situation must be monitored as this species could soon qualify for a threatened category, on the basis of population declines due to fisheries exploitation, in other areas.
Citation: Duffy, C. & Gordon, I. (SSG Australia & Oceania Regional Workshop, March 2003) 2003. Carcharhinus brachyurus. The IUCN Red List of Threatened Species. Version 2014.2. <www.iucnredlist.org>.
Similar species:
Dusky shark - Quite similar in appearance, these two species are often confused with one another. The dusky shark grows larger, has a slightly more slender nose, more pointed and falcate pectoral fins, a higher first dorsal, a low interdorsal ridge, a more prominent terminal lobe on the upper caudal and more triangular teeth. Most of these differences are quite subtle.
Blacktip shark - This species is more easily differentiated by its more laterally flattened snout, obvious black tips on all fins except the upper caudal lobe and a very well defined pale stripe on the flank.
Reaction to divers:
Bronze whaler sharks generally avoid divers unless enticed with chum or during spear fishing activities. However, during the South African Sardine Run these sharks can become much bolder and will virtually ignore divers when devouring sardines and other baitfish.
Diving logistics:
The best place to encounter bronze whaler sharks is during the Sardine Run which takes place on the east coast of South Africa from early June to the end of July. Most operators base themselves in East London early in the run and then move to Port Saint John as the sardines move northeast.
Big Fish Expeditions runs dedicated Sardine Run expeditions that also include chumming for bronze whalers and chumming on local reefs between bait balls: South African Sardine Run.
Big Fish Expeditions: