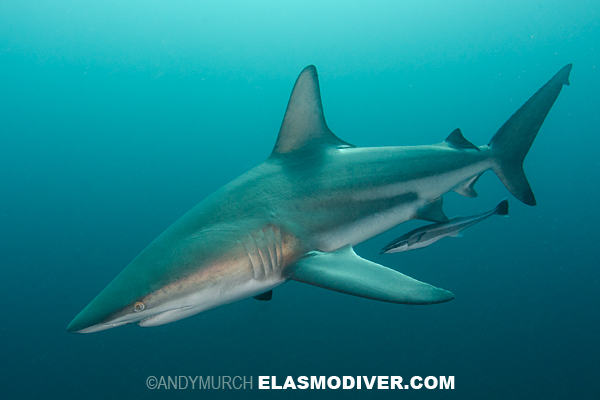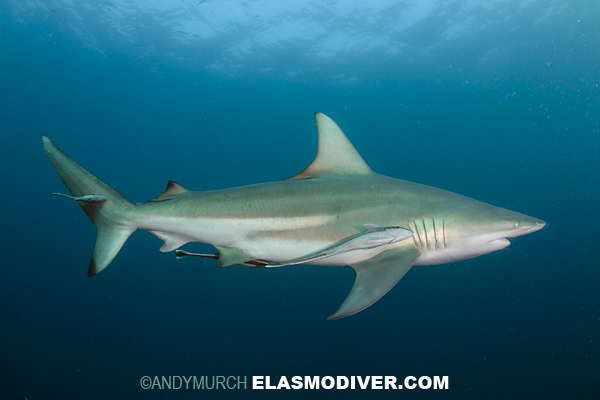 View all available BLACKTIP SHARK PICTURES in the SHARK PICTURE DATABASE
Common Names: Blacktip shark.
Latin Name: Carcharhinus limbatus
.
Family: Carcharhinidae
Identification: Black tips of pectorals, second dorsal, and lower caudal fin. All other fins may also be edged in black or appear dusky. Snout long and pointed. Upper body gray to light gray with a distinct white streak present from above the pectoral fins backwards joining the white underbelly half way to the tail. No interdorsal ridge. First dorsal fin high and pointed.
Size: Maximum length 260cm. Size at birth 38-72cm.
Habitat: Turbid inshore waters, lagoons, reef channels, reef drop offs and seamounts. To 30m.
Abundance and distribution: Circumtropical and temperate.
Behavior: Diet consists primarily of fish including small sharks and rays. Also consume crustaceans and snails and octopus. At Rangiroa the Blacktip passes out of the lagoon on the ebbing tide to cruise the reef face. More active during daylight hours.
Reproduction: Viviparous. Recorded litter size 1 - 10. Gestation period 11 - 12 months.
Conservation Status: Considered 'Near Threatened' by the IUCN. In the western North Atlantic this species has long been important in the recreational fishery and now is a primary target of the directed commercial fishery along the southeast coast from South Carolina to Florida and throughout the Gulf of Mexico (Branstetter and Burgess 1996, 1997). It is the second most important commercially landed species in that region after the Sandbar Shark (Carcharhinus plumbeus) and its meat is considered superior to the latter species. In the USA, Blacktip Shark other carcharhinid meat is often sold under the name ?Blacktip Shark? because of wide consumer preference for the product. It is a significant constituent of the substantial Mexican shark catch, from both Atlantic and Pacific coasts. Elsewhere, it is the most commonly caught species in the large Indian fishery (Hanfee 1996), occasionally caught in the Mediterranean Sea driftnet fishery (Walker et al. 2005), and surely constitutes a sizeable portion of the catch in smaller scale and artisanal fisheries throughout the northern Indian Ocean and South China Sea. In Australia, it represents a minor component of the shark catch in northern Australia (Last and Stevens 1994). Blacktip Shark meat is primarily consumed locally and fins are dried and shipped to the Far East where they are used in preparing shark-fin soup. In some areas the hides are utilised in preparing leather and the livers are used to extract oil.
Citation: Burgess, H. G. & Branstetter, S. 2009. Carcharhinus limbatus. In: IUCN 2013. IUCN Red List of Threatened Species. Version 2013.2. <www.iucnredlist.org>
Photographs: Aliwal Shoal, Umkomaas, South Africa.
Similar species:
In the Caribbean the Blacktip is often confused with the Caribbean reef shark (C.perezi) which is not as slender and long in front of the eyes and has a less pronounced white stripe on its flank. Many other Carchhinids around the world are also hard to distinguish from the blacktip shark. Commonly confused species include the Grey reef (C.amblyrhynchos) and the Galapagos shark (C.galapagensis). Fin tip coloration and proportion is the best clue.
Reaction to divers: Varied. Usually extremely shy but during some encounters the Blacktip shark can become aggressive making close passes and bumping divers.
Diving logistics: Although blacktip sharks are generally unapproachable, during shark feeds in Aliwal Shoal, South Africa, blacktip sharks will either ignore divers completely or investigate them. There are a number of operators that feed the sharks and the different operators often feed in close proximity to one another. This cooperative arrangement keeps the sharks in one spot rather than splitting the resident populations in smaller groups.
Perhaps the best known shark feeder in the region is Walter Bernardis who runs African Water Sports.