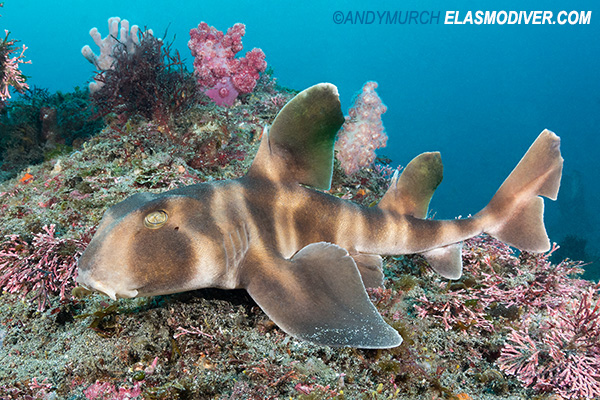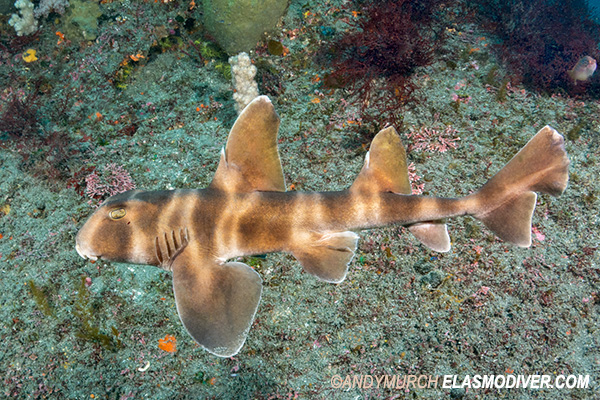 View all available Japanese Bullhead Shark Pictures in the Shark Pictures Database
Common Names: Japanese bullhead shark, Japanese horn shark.
Latin Name: Heterodontus japonicus
Family: Heterodontidae
Identification: Bulbous head with tapering, cylindrical body. Torso light brown with 11-14 dark diffuse vertical bands or stripes of varying width. Markings fade but are usually still visible in adults. Supraorbital crests (brow bones) moderately low. Two large, slightly falcate unmarked dorsal fins with low dorsal spines. First dorsal fin origin in front of pectoral fin insertion and well behind gill openings. Large pectoral fins originate below second gill slit. Jaw contains anterior, pointed, clutching teeth (with a large central cusp flanked by two much smaller cusplets) and rounded rear molars.
Size: Length at birth 18cm. Minimum length at maturity 69cm. Maximum length 120cm.
Habitat: Rocky reefs and Kelp forests from 6 to 37m.
Abundance and distribution: Northwest Pacific Ocean. Japan, Korean peninsula, southward along the coast of China to Taiwan.
Behavior: The Japanese bullhead shark hunts by swimming/walking along the bottom on its muscular pectoral and pelvic fins. Prey includes small fishes, crustaceans and mollusks. It initially snatches prey items in its highly producible jaws and then crushes them into small pieces with its rear molar-like teeth.
Reproduction: Oviparous. Lays distinctive auger shaped egg cases. 6-12 pairs of eggs may be laid by each female between March and September. The greatest egg production takes place between March and April. Females sometimes use the same nesting site. Up to 15 eggs have been found in a single "nest". No parental care; females abandon their eggs immediately and leave the nesting area.
Conservation Status: Least Concern. According to the IUCN the Japanese bullhead shark has a stable population that is of little interest to fisheries. However, but is caught as bycatch by gillnet fisheries (Tanaka 2006) and possibly other fisheries in its range (Compagno 2001, S. Tanaka and K. Nakaya pers. obs. 2007). In northern Japan, and possibly elsewhere, its inshore habitat is threatened by marine pollution and coralline flats. Algae are declining in abundance, which will affect this species' prey items; Batillus, top shells sea urchins, and in turn may impact populations of H. japonicus (S. Tanaka pers. obs. 2007).
It is also a very popular aquarium species in Japan (S. Tanaka and K. Nakaya pers. obs. 2007).
Photographs: Ito, Chiba Prefecture, Japan.
Similar species: The Japanese bullhead shark shares its range with the zebra bullhead shark Heterodontus zebra. The latter has lower dorsal fins, and more defined and numerous vertical stripes. It generally inhabits deeper water down to 200m.
Reaction to divers: Very easily approached. The Japanese bullhead shark remains motionless unless molested. Caution should be taken around dorsal spines.
Diving logistics: Usually found under ledges or in other recesses. This species is often encountered by divers around the Chiba and Izu peninsulas on the south side of Honshu Island, Japan. Contact Bommie Dive Centre for more information on diving in Ito, Chiba.
Citations and further reading:
Tanaka, S. & Nakaya, K. 2009. Heterodontus japonicus. The IUCN Red List of Threatened Species. Version 2014.3. <www.iucnredlist.org>.

Compagno, L.J.V. 1984. FAO species catalogue. Vol. 4, Sharks of the World. An annotated and illustrated catalogue of shark species known to date. Part 1 - Hexanchiformes to Lamniformes: viii, 1-250.