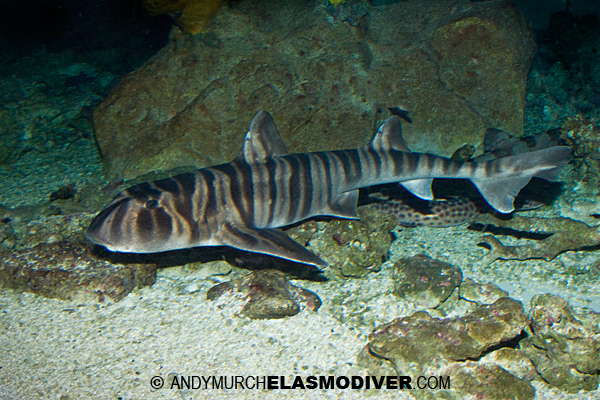 View all available Zebra Bullhead Shark Pictures in the Shark Pictures Database
Common Names: Zebra bullhead shark,
Barred Bull-head Shark, Barred Shark, Bullhead Shark, Cat Shark, Little Shark, Striped Bullhead Shark, Striped Cat Shark, Zebra Horn Shark, Zebra Port Jackson Shark.
Latin Name: Heterodontus
zebra
Family: Heterodontidae
Identification: Low supraorbital crests (brow bones). Body white to grey/tan with bold black and brown zebra-like stripes. Stripes on juveniles may be reddish.
Size: Maximum length 122cm.
Length at birth: 15cm
Habitat: Continental and insular shelves from inshore down to 50m. In southern range (Australia) from 150-200m.
Abundance and distribution: East Asia: Japan, Korea, Taiwan and China down to Vietnam. Also Sulawesi in Indonesia and continental shelf off of Northwestern Australia.
Behavior: Unknown.
Reproduction: Oviparous. Lays a distinctive auger shaped egg case like all bullhead/horn sharks. However, the egg case of the zebra bullhead shark is far less twisted and has very short filaments.
Conservation Status: Least Concern. According to the IUCN, the zebra bullhead shark is a wide-ranging and apparently common shallow-water Western Pacific species. Although of little interest to commercial fisheries, Heterondontus zebra is caught as bycatch of demersal trawlers and possibly other fisheries, and could be under some threat from destructive fishing practices and habitat degradation in Indonesia. However, this species is common within its range, is probably relatively fecund (an oviparous species) and is assessed as Least Concern because there seem to be no major threats to its populations at the present time.
Similar species: Japanese bullhead shark - Heterodontus japonicus shares the northern range of the zebra bullhead shark but lives in shallower water.
It also has thin stripes but they are less numerous and less distinct.
Reaction to divers: N/A
Diving logistics: The zebra bullhead shark inhabits depths inaccessible to recreational scuba divers throughout much of its range.