The North American Shark Diving Tour - Exodus from Cabo
First published in Shark Diver Magazine November 2009
It sounds odd but the shark tour actually started months before we came up with the idea of touring North America to photograph sharks and rays. We were working on a private yacht down in San Jose del Cabo over the winter. I was employed part time so I had lots of opportunities to take off on photography expeditions to begin cataloging local species.

At one point I accepted a short gig as a submersible pilot with Seamagine Hydrospace working with great white sharks at Guadalupe Island. While there I met Mexican Researcher Mauricio Hoyos who lives in La Paz. Mauricio is a total shark fanatic and we became instant friends. When I got back to Baja Sur he invited me to join him on a hammerhead tagging trip in La Paz Bay.
The tagging trip involved sitting on a panga with a couple of artisanal long line fishermen while they landed their catch. It was not my first experience with shark fishermen but it was still pretty disturbing watching dead or barely wriggling sharks being hoisted out of the water.
Putting my emotions aside I jumped out of the panga and swum around photographing smooth hammerheads and a distraught looking pelagic stingray that had also got snagged on the indiscriminate long line.
Mentally, it was a tough shoot but that day I managed to get some of the best i.d. shots of smooth hammerhead sharks around which really got me thinking about the obscure ways that I could get images of sharks that are almost impossible to approach while diving.





When Claire and I quit our yacht job in April and headed first to Cabo Pulmo to shoot breaching mobula rays. These rays congregate in their thousands along the southern Baja coastline from February till early summer so we thought that it would be pretty easy to get some good images. Possibly as part of some bizarre courtship ritual the rays breach in ones and twos and slap back onto the water so loudly that it keeps the locals awake at night. When the big schools are passing by, so many can be seen jumping at once that they have gotten the nickname 'popcorn rays'.
Shooting them was a bit of a nightmare on a rocking panga and approaching them underwater turned out to be a exercise in futility but eventually we got some aerial shots and moved north to look for more Mexican sharks and rays.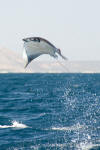 We camped out on the beach near the dusty little town of Mulege about a third of the way up Baja's east coast. Initially, we thought that this would be a place that we could shoot all the species of round stingrays that are common in this region but after chatting (in my terrible Spanish) to the long line fishermen that work the bay, I managed to convince Captain MartÚn to let me accompany him and his crew on one of their long lining trips.

The boats mostly bring in tiny Pacific sharpnose sharks and (over the winter) juvenile smooth and scalloped hammerheads. When I told the fishermen that I wanted to jump in the water with the sharks they thought that I was a little crazy but they were ok with it as long as I didn't get in the way.

We set out early in the morning but it took a long time for them to get any sharks. In total they put out four kilometers of long lines containing 1400 hooks baited with chunks of yellow striped fish that looked like some kind of snapper. For their effort, the fishermen landed 7 sharks weighing a total of around 20kg. I asked JosÚ, the other fisherman who has been in the industry a long time, what it was like in the old days. He told me that 20 years ago on his best days he could land over 1700kg of sharks.

I spent my time swimming around the panga shooting the sharks as they came up the line. It was a depressing thing to document. The sharks were still alive but beyond recovery by the time they were tossed into the bottom of the boat.
I took some shots of the carcasses and then sat there wondering if I was really cut out for this kind of thing. I believe that getting images of long liners doing their work is important from a conservationists perspective but to sit idly by while sharks are left suffocating in the bilge of a panga is soul destroying.

While I sat there, JosÚ pulled up a very lively sub-adult sharpnose shark and tossed it at the others. It immediately started flapping around so I figured this one still had a chance. I asked Marten what he thought this shark weighed and he said around 1.5kg. They had already told me that they get just over a dollar per kilo from the traders that periodically show up to buy the sharks so I explained as best I could that I would like to buy this particular shark. They got the idea and from the bemused look on their faces they obviously thought that I was completely loco but they agreed to sell me the shark and I grabbed it gently in front of its tail and dropped it back in the water before it could beat itself senseless on the deck planking. Two bucks for the life of a shark! What would it cost to keep these fishermen home for good?

I know that I didn't really achieve anything by liberating one little Pacific sharpnose shark but maybe my token act had some effect even if it was a small one. After I released the shark we talked as best we could in broken Spanish about the problems that sharks are facing and their important place in the ecosystem. The fishermen already understood the big picture maybe even better than me. I asked them what they would do if they couldn't fish for sharks and they shrugged and said that they would fish for something else. Doing anything other than fishing seemed to be a bizarre concept that they did not want to entertain. If any real change is to take place it will have to come from the next generation.







After bidding farewell to the fishermen Claire and I went for a long hike along the rocky shore north of Mulege. Just before sunset we spotted some birds in the distance and walked over to investigate.
What we found was a shoreline littered with discarded shark and ray heads. It was a tragic site. They were mostly Pacific sharpnose sharks and small smooth hammerheads but there were also a number of guitarfishes and the carcass of a butterfly ray. All in all it was a grim day.



The next morning we returned with our cameras to photograph the grizzly remains and then spent the afternoon chasing round stingrays in the shallows next to our campsite. In 5ft of water the stingrays were everywhere. It was a refreshing change to see so much life after so much death. We must have seen two or three hundred rays. Mostly round stingrays and a few Cortez stingrays.
The rays were very skittish and exploded out of the sand and darted away as we approached their hiding places but one older male round stingray let me get really close. I followed him around for a good half an hour and just as I was planning to head for shore he ducked down and latched onto a female ray that was sleeping under the sand.
For the next 5 minutes I was able to watch an amazing spectacle as the male ray struggled to subdue his mate. The female put up a valiant fight as they spiraled around and around each other oblivious to the flashes emitting from my camera system.
That night I slept a lot better. The balance of species may be shifting but at least there is still life in the Sea of Cortez.
Author: Andy Murch
Andy is a Photojournalist and outsoken conservationist specializing in images of sharks and rays.
RETURN TO SHARK STORIES MAIN PAGE