The 2009 shark Tour is now over and this page is now sinking into the Elasmodiver archives but it will continue to be an important chapter in the shaping and evolution of Elasmodiver. If you have this page bookmarked for updates please change your pointer to my new blog address. Thanks!
Elasmodiver North American Shark Diving Tour
March 26th 2009
The owner of the boat that I have been working on in Baja turned out to be a tyrant and life is simply too short to waste time tiptoeing around angry people. Consequently its time to go. I have a little money saved and I'm hell bent on embarking on the craziest, most ambitious road trip that I have ever dreamed up.

Not sure where all this stuff is gonna fit in my van...
This tour will attempt to encompass as many of the diverse elasmobranchs (sharks and rays) that North America has to offer.
My starting point is the southern tip of the Baja peninsula in Mexico. I have my ailing VW camper loaded to the gills with diving and camera gear and enough tunes on my IPod to last for 37 days.
My first stop driving north will be Cabo Pulmo. Home of diamond and longtail stingrays, banded guitarfish, schools of pacific cownose rays and (at present) jumping mobula rays that seasonally converge on this isolated reef system in their thousands.
Next stop La Paz to join shark researcher Mauricio Hoyos for one more visit with the artisanal shark fishermen that ply the bay for smooth hammerheads and Pacific sharpnose sharks.
Then up to the beaches south of Mulege; Urolophid central. Camping on the beaches by night and snorkeling with round, cortez, and bullseye stingrays by day.
I'll skip through the rest of the sleepy towns in the lower Sea of Cortez and cross the desert into Northern Baja. Then cut back east to the remote village of Bahia de los Angeles where I have a hunch I can find Mexican bullhead sharks near the sea lion colonies.
After that it's time to cross the border. First stop in Cali is San Diego. Leopard sharks at the marine room in La Jolla, possibly soupfins in the cove, and horn sharks at night in La Jolla Canyon. Its all shore diving so I can dive my heart out and still have enough cash for food. Gotta shoot the harbour seals too.
North to Santa Barbara. Camp at Refugio Beach north of the city and hunt for swell sharks in the kelp forests. 15 minutes further north, Tajegis Beach is one of the few places where angel sharks are reliably found but the vis is often horrendous.
After Tajegis I'll drive along Big Sur and resurface in Monterey. Hit the aquarium (the sevengill sharks are awesome) and then go play with the seals and sea lions and look for big skates. Then cruise north as far as San Fransisco.
San Fran pier fishermen report that they catch brown smoothhound sharks by the bushel (mostly at night). I'd like to do some exploratory dives under the piers to see if they're approachable. SF Bay may be like diving in coffee so if anyone has some experience diving there, I'm all ears.
Then its adios west coast. Death Valley, Grand Canyon and then Texas. Maybe dive the gulf on the way to Venice, Louisiana. Splash out in Venice for some big critter diving. Scalloped hammerheads, duskies and silky sharks are common on the humps about 70 miles from shore. It will be a real highlight because I'll be hooking up with the Shark Diver Magazine crew: Eli Martinez, Paul Spielvogel and Nathan Meadows. Haven't seen the whole gang since we shot Summer of the Sharks so it'll be a great reunion.
Mississippi beckons with the promise of numerous little sharks in the estuary. Finetooth sharks and Atlantic sharpnose sharks among others. I don't have any contacts in the Gulf of Mexico so if anyone reading this blog can introduce me to some friendly researchers willing to let a shark photographer tag along on a field trip please let me know.
Next stop Panama City, Florida. Camp at the state park within camera schlepping distance of the pier. This is a great place to shoot Atlantic stingrays and occasionally bluntnose stingrays too.
I have to stop at Crystal River on my way down through Florida. I know that manatees are not sharks but come on, manatees! they're so cool!
Down to Tampa, visit Mote Marine, kick up a few prehistoric mako teeth on Venice Beach and then head through the Everglades to Miami. Would love to go look for smalltooth sawfish but they're pretty tricky to find.
Through the keys for a couple of days to dive with nurse sharks, southern stingrays and yellow spotted stingrays then I'll head up the east coast.
I will probably drop in on some old friends in West Palm Beach that regularly go spear fishing among bull and lemon sharks and then I'll say goodbye to the oppressive heat of Florida and drive directly up to the outer banks of North Carolina where sandtigers rule the wrecks.
Further north still, in and around Maine, there are plenty of blue sharks and spiny dogfish to keep me entertained. If possible I'll try to stay posted on the basking shark migration. If they're in town when I head up the New England coast I'll have to find a way to get out to where they are feeding.
My final stop in the US will be in Massachusetts. The beaches around the Cape Ann Peninsula are home to winter skates in the winter and little skates in the summer. I'm not sure when the transition takes place but if I'm lucky I'll be able to shoot both species. Cape Ann also has a population of Atlantic torpedo rays but so far I haven't seen any.
By the time I cross the border it should be warm enough in eastern Canada to go diving without having to break the ice first :)
Before I get there, I'll check in with the porbeagle shark fishermen to see what they are up to. I've done two trips to the Bay of Fundy and the water is always like green tea so I am hoping that this time I can shoot porbeagles in NS where the water is much clearer.
Then northeastward to Gaspe to shoot harbour seals (they're different to the Californian ones) and then a ferry north across the Saint Lawrence River to chase Greenland Sharks in Baie Comeau.
That pretty much sums it up.
I figure that should take around three months unless I stop to work along the way. If I'm frugal, I have enough cash to keep the van fueled up and pay for groceries, tank fills, the occasional dive charter, truck stop showers and the odd campground.
Along the way I will try to hook up with as many old friends as possible. I'm also looking forward to bumping into other shark divers, shark researchers, and anyone else out there that wants to talk sharks. I'll be updating my blog once or twice a week with pictures and stories of my encounters both underwater and above and posting them on a new page on Elasmodiver.com where you can follow my progress: http://elasmodiver.com/northamericansharkdivingtour.htm My first stop Cabo Pulmo is totally off the grid at the end of a long dirt road but as soon as I make it into a town I'll upload the first progress report.
Well, it's 1.30am and I'm leaving in the morning so I guess I better call it a night.
For the sharks,
Andy Murch
---
Elasmodiver North American Farewell Tour - Mobula Rays don't play nice.
April 1st 2009
I have just left the sleepy village of Cabo Pulmo which is at the end of a very bumpy 'washboard' dirt track in Baja California Sur.
I was there to shoot mobula rays but unfortunately mobulas do not like to be photographed. There were certainly plenty there to shoot (they were schooling in their thousands) but as soon as I slipped into the water they would descend as deep as they could and stop breaching until I was so exhausted from chasing them that I had to get back on the panga. Then, they would start jumping again a few hundred meters away. It was fantastic to be in the water with such an enormous biomass of animals moving below me in formation but utterly frustrating to not have the chance to get close enough to record the encounter. If I was a better free-diver I might have been able to swim around at 40 or 50 ft and nail the shot but breath hold diving is not one of my strong points. If anyone out there wants to try the same thing next season I have one piece of advice; bring a rebreather. I believe that it is the only tool that can really do the job. I did manage to take a few snap shots of them both breaching and some murky shots of them gliding by in the darkness but none that are print worthy.
While I was out on the panga I tracked a humpback for a while and shot some pretty tail pics and then swum with sea lions and played with a giant school of big eye jacks but all told it was meager pickings for a jaded shark diver.

The highlight and most productive session in Cabo Pulmo came right on my door step. While snorkeling off the beach where I was camping I came across a very accommodating banded guitarfish. It picked up and swam a little at first but eventually it got used to the flashes and let me shoot frame after frame. The pics are some of the best I have of this ray.
Camping on the beach outside town was a great way to start this adventure. There were no 'facilities' so it was a big change from crewing and living on a megayacht! All went well until I drove a little too close to the sea and my VW camper van got bogged down. After much wheel spinning things went from bad to worse. I've played this game on ice and snow but I've never been stuck in sand before. Unlike snow, sand just gets deeper. After some digging I thought I was making progress but the wheels continued to spin and then I realized that the wheels were no longer touching. I had sunk so low that the floor pan of the van was sitting on the sand! After about an hour more digging and a push from some passers by I finally managed to reverse back onto the hard pack. It was a tense couple of hours!
North of Cabo Pulmo I tried navigating another dirt road and almost exactly the same thing happened but this time I was able to get a tow from a passing truck.
I don't think that VW had this kind of off roading in mind when they came up with the Eurovan! Fortunately, what goes around comes around and I was able to squeeze a family of six onto the bed in the back of the van to give them a lift into Cabo Pulmo when their rental car broke down. My van (which is missing a bushing on the front axle) groaned and clanked most of the way but I finally arrived in the village in one piece.
Next stop will be the artesanal shark fishing camps north of La Paz (along another dirt road). I'm not sure what reception I will get or how much I'll be able to communicate with the fishermen in my rudimentary Spanish. Hopefully they will let me accompany them on their fishing trips but more about this in the next update.
Since I posted this blog about the trip I have had many emails from friends old and new asking when I will be in each area. It's great to know that I will have the chance to catch up with so many people and I'm looking forward to every encounter. Unfortunately it is really tricky to estimate exactly when I'll get to the next town let alone when I'll be in Miami or Massachusetts! But, don't let that put you off if you want to catch up with me. I'm going to cram as much diving and socializing into this tour as I physically can.
It now looks like I will get a chance to go out with a Mexican researcher on the Pacific coast of Baja that works with smoothhound sharks. I also got an invite to socialize with shark tagging veteran Walter Heim and maybe hunt for sevengills in San Diego. That would be amazing if I can pull it off.
A quick thank you to my friends in Cabo Pulmo: Muchas Gracias Javier and Juan for trying everything they could think of to help me get the mobula shots. If anyone wants to take up the gauntlet and carry on where I left off, these brothers will get you to the mobulas. The rest is up to you. You can contact Javier at: Javycastro@yahoo.com.mx he says Fidel is his uncle but I didn't notice a resemblance.
For the sharks,
Andy Murch
---
Leaving La Paz
April 6th 2009
For the last few days I've been based in La Paz trying to hook up with the artesanal shark fishermen that ply the waters on the north side of the bay. Last time I was here I managed to get some good shots of smooth hammerhead sharks but this time the fishermen are even more illusive than the sharks and I have had a great deal of difficulty tracking them down. I was hoping that I could document them while they fish for Pacific sharpnose sharks. This is their main target species that lives year round in La Paz bay and elsewhere along the coast. It is a fairly abundant little shark but it still needs to be carefully monitored to make sure that the sharpnose stocks do not fall to critical levels.
The fishermen average about 5 sharks per trip at this time of year but they take considerably more in winter. The sharks are too small (max one meter) for the Asian fin market but the locals relish the meat and the sharks fetch around 60 pesos (4US$) per kilo at the fish market. That makes their trips worthwhile even if there are not that many sharks around.
I'm planning to try one more time tomorrow to catch them at their fishing camp and then give up and move north.
The Easter holidays (Semana Santa) ramp up over the next few days. Easter is a massive event in Mexico and in Baja anyone with a tent heads to the beach. That means that the beaches around the main population centers down near La Paz will be zoos for the next few days. I want to get as far north as possible in the hopes that I'll miss the flood of Mexican holiday makers but the chances are that wherever I end up I'll probably still be swept up in the festivities. That's ok; 'when in Rome' and all that.
I haven't been in the water much since my last blog but I've still been talking sharks. A few days ago I met up with Documentary Maker Mike Hoover at the La Paz opera of all places. I haven't seen Mike since our last trip to Guadalupe Island. Mike is a fascinating guy. His career in the film industry has been colorful, exciting and tragic in equal measures but his resilience and no nonsense astute personality are what I like about him the most. He is best known for his frontline work in Afghanistan during the Russian invasion and his cutting edge mountaineering films (among others) that have been well received by audiences around the world for decades. He has also worked on blockbusters like Forest Gump, Crimson Tide and The River Wild. More recently, he has been involved with numerous films about Great white sharks aboard his expedition ship the Captain Jack which is how I met Mike for the first time last year.
This time we only managed a short conversation before the singing started so I hope that I get another chance to talk and work with him soon.
My next stop will be a day's drive north on one of the white sand beaches around Bahia Conception. There are many beaches that I have never had the time to visit and some that are old favorites. All of them are home to hundreds of tiny Round and Cortez stingrays so I'll be strapping on my snorkel once again and chasing rays until the sun goes down.
I wanted to keep this tour as fluid as possible but everyone I plan to visit has schedules so I'm slowly having to nail down dates for each adventure. The good news is that I have had a great response from all my friends and some once in a lifetime offers to do some very exciting diving. It now looks like I may be able to take a crack at sevengills in the wild with my shark tagging buddy Walter Heim. And, when I finally get to the Mississippi Delta I have an invitation to join a field trip with Dr Eric Hoffmayer from the Gulf Coast Research Laboratory. The GCRL is conducting an abundance and distribution study on coastal sharks and rays so that means that I will get to photograph lots of hard to find species like finetooth, Atlantic sharpnose, juvenile bulls and who knows what other sharks, not to mention all the illusive ray species that inhabit that part of the coast - I'll be in elasmogeek heaven.
You can now follow my schedule at the following link:
http://www.elasmodiver.com/northamericansharkdivingtour.htm#Itinerary
For the sharks
Andy Murch
---
Life and Death in the Sea of Cortez
April 14th 2009
After striking out with the fishermen in La Paz I headed north. For the past few days I have been camping on the beach near the dusty little town of Mulege about a third of the way up Baja's east coast. Initially I thought that this would be a place that I could shoot all the species of round stingrays that are common in this region but after chatting in my terrible Spanish to the longline fishermen that work the bay I managed to convince one Captain (MartÚn) to let me accompany him and his crew on one of their longlining trips.
The boats mostly bring in tiny Pacific sharpnose sharks and (over the winter) juvenile smooth and scalloped hammerheads. When I told the fishermen that I wanted to jump in the water with the sharks they thought that I was a little crazy but they were ok with it as long as I didn't get in the way.
We set out early in the morning but it took a long time for them to get any sharks. In total they put out four kilometers of longlines containing 1400 hooks baited with chunks of yellow striped fish that looked like some kind of grunts. For their effort, the fishermen landed 7 sharks weighing a total of around 20kg. I asked JosÚ, the other fisherman who has been in the industry a long time, what it was like in the old days. He told me that 20 years ago on his best days he could land over 1700kg of sharks.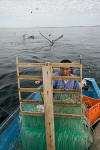 Rows of shark hooks ready to be baited
I spent my time swimming around the panga shooting the sharks as they came up the line. It was a depressing thing to document. The sharks were still alive but beyond recovery by the time they were tossed into the bottom of the boat.
I took some shots of the carcasses and then sat there wondering if I was really cut out for this kind of thing. I believe that getting images of long liners doing their work is important from a conservationists perspective but to sit idly by while sharks are left suffocating in the bilge of a panga is a tough gig.
80cm long Pacific sharpnose sharks piled in the bottom of the panga
While I sat there, JosÚ pulled up a very lively sub-adult sharpnose shark and tossed it at the others. It immediately started flapping around so I figured this one still had a chance. I asked Marten what he thought this shark weighed and he said around 1.5kg. They had already told me that they get just over a dollar per kilo from the traders that periodically show up to buy the sharks so I explained as best I could that I would like to buy this particular shark. They got the idea and from the bemused look on their faces they obviously thought that I was completely loco but they agreed to sell me the shark and I grabbed it gently in front of its tail and dropped it back in the water before it could beat itself senseless on the deck planking. Two bucks for the life of a shark! What would it cost to keep these fishermen home for good?
Possibly these are the first images of a free swimming Pacific sharpnose shark
I know that I didn't really achieve anything by liberating one little Pacific sharpnose shark but maybe my token act had some effect even if it was a small one. After I released the shark we talked as best we could in broken Spanish about the problems that sharks are facing and their important place in the ecosystem. They already understood the big picture maybe even better than me. I asked them what they would do if they couldn't fish for sharks and they shrugged and said that they would fish for something else. Doing anything other than fishing seemed to be a bizarre concept that they did not want to entertain. If any real change is to take place it will have to come from the next generation.

Marten's son in Law Aaron proudly holds up a sharpnose shark
After bidding farewell to the fishermen, I went for a long hike along the rocky shore north of Mulege. Just before sunset I spotted some birds in the distance and went to investigate. What I found was a shoreline littered with discarded shark and ray heads. It was a tragic site. They were mostly Pacific sharpnose sharks and small smooth hammerheads but there were also a number of guitarfishes and the carcass of a butterfly ray. All in all it was a grim day.
Discarded shark heads littering the shoreline north of Mulege
The next day I returned with my camera to photograph the grizzly remains and then spent the afternoon chasing round stingrays in the shallows next to my campsite.
In 5ft of water the stingrays were everywhere. It was a refreshing change to see so much life after so much death. I must have seen two or three hundred rays. Mostly round stingrays and a few Cortez stingrays.
The rays were very skittish and exploded out of the sand and darted away as I approached their hiding places but one older male round stingray let me get really close. I followed him around for a good half an hour and just as I was planning to head for shore he ducked down and latched onto a female ray that was sleeping under the sand. For the next 5 minutes I was able to watch an amazing spectacle as the male ray struggled to subdue his mate. The female put up a valiant fight as they spiraled around and around each other oblivious to the flashes emitting from my camera system.
That night I slept a lot better. The balance of species may be shifting but at least there is still life in the Sea of Cortez.
Stingray porn - a male Round stingray (Urobatis halleri) latches onto the tail of a female before mating
I was planning to look for Mexican Bullhead Sharks further north in Baja but it appears that they are so rare that no one I have spoken to has ever seen one. So I have decided to spend a couple of days slowly driving north and then cross the border into Southern California. San Diego here I come.
For the sharks,
Andy Murch
---
Bluedogs off San Diego
20th April 2009
Just a quick update to let you all know that for the next few days I am hanging out in Southern California diving around San Diego. When I arrived four days ago La Jolla Shores looked pretty daunting but the seas have now calmed down and the shore diving is looking good.
Yesterday I got a chance to head out with my old friend Walter Heim. Walt is an all around great guy and a master at chumming in blues and makos.

It is a bit early for makos so we headed way off shore to where the water turns from green to blue and laid out an irresistible chum slick that attracted a couple of plucky little blue sharks. Its tough to do justice to the beautiful iridescent colors that reflect from the back of a young blue shark but we gave it a good try! As the sun was getting low in the sky, I bobbed around behind Walter's boat snapping frame after frame.
The second shark (about 5ft long) was happy to pose from just about every angle so I was able to add some really nice portraits to my blue shark collection:
While writing this blog I got a couple of emails from Walt saying that the first school of Leopard sharks was spotted off La Jolla shores today and a diver encountered a sevengill shark in La Jolla Cove so tomorrow I'll probably be in and out of the water all day. By the time I rendezvous with another one of Walt's buddies for a night dive with horn sharks I'm gonna be chilled to the bone but how can I resist with so many sharks and so little time!
For the sharks,
Andy Murch
---
Sevengills in San Diego
24th April 2009
I have just left San Diego but I will definitely be back! San Diego is one of the sharkiest cities in North America period.
To recap, I arrived just over a week ago to storm like conditions and had to sit around frustrated while the waves pounded the shore line. After a couple of days the weather abated and I was able to get out with my good friend Walter Heim who found me some beautiful blue sharks to shoot. See my previous blog Blue Dogs off San Diego.
After boat diving with Walter I heard that there had been a broadnose sevengill shark sighted in La Jolla Cove. I have always wanted to dive the cove so I arrived early and kicked out to the kelp forest camera at the ready. I didn't really expect find a sevengill shark but I had also heard that the cove is a good spot to find horn sharks so I was excited either way.
The forest is a fair distance from shore and as I wound my way back to the beach, looking under ledges for horn sharks, a curious sevengill suddenly materialized out of the kelp and did a quick circle around me. If you don't know your sharks you could be forgiven for not understanding how unlikely this encounter was. Looking for horn sharks and finding a 7ft sevengill is like looking for nickels on the beach and digging up a diamond ring. Local divers that dive the bay every week may see a sevengill once a year or so if they're very lucky. I don't even know how to describe my luck in seeing a sevengill on my very first shore dive!
The shark let me get a couple of snap shots. Nothing particularly great and I couldn't get in front of him no matter how fast I swam but at least I was able to record the moment.

After that I was hooked. I returned to the beach and switched out my tank and dove straight back in but the illusive broadnose sevengill had given me my moment of contact and I spent the next three dives at the cove shooting horn sharks, banded guitarfish and shovelnose guitarfish.
The horn sharks made great photo subjects. I was able to shoot them hiding in crevices and swimming over the brilliant green sea grass beds that waved back and forth in the surge.
The banded guitarfish were the same species as the ones that I shot in the coral reefs in the Sea of Cortez. It is quite surprising that they are able to tolerate such temperature differences. Shooting them in kelp made a nice backdrop instead of coral but I now have so many banded guitarfish shots that I really have to start deleting some off my hard drives.
The other guitarfish that I encountered, the shovelnose, is usually a very skittish subject. I have tried to shoot this species at the beach and they invariably explode out of the sand in a puff of silt and swim for the depths before I can get anywhere near them. I was a long way off shore when I found this one in the kelp forest and I think it was a little surprised to see me. Even so, I only got one shot off before it returned to its senses and headed for the hills.

Between dives I drove over to the Marine Room which is a snorkeling spot named after the restaurant of the same name. This is the best place on the planet to find leopard sharks but it was a little early in the year for the leopards to congregate in big numbers and I could not see more than some shadows in the distance - just one more reason to come back to San Diego.
I also tried a night dive at La Jolla shores in search of angel sharks but after an epic surface swim and a long, freezing cold night dive I returned to the shore empty handed. That isn't such a big deal as I am heading up to Tajegis Beach near Santa Barbara soon. Tajegis is a good spot for angels but a bad spot for surge so if I am lucky enough to arrive there when the weather is cooperating I will get one more kick at the can.
I had planned to slowly work my way up the coast to San Francisco but the forecast for shore diving is not good so I have decided to reverse everything and get to San Fran as fast as I can and then slowly work my way back down to San Diego before cutting across to the Gulf of Mexico to start my east coast leg.
Another development that I just couldn't pass up; I have decided to squeeze in a trip to Catalina on the advice of Ron Clough who conducts the California Shark and Ray Count. I have never seen a Pacific Torpedo Ray so Ron (who's advice has always panned out in the past) gave me the skinny on where to reliably find pacific torpedos:
"Torpedos are at Catalina Island, Casino Point. Go deep, 70-90 ft. out toward the corner buoy on the left hand side, as you stand on the stair case facing the ocean. I'd give you a 99% chance. Also, look forward to great vis there and some great shots. Hope I get a chance to dive with you." With advice that detailed how could I resist! So, I am cutting the Grand Canyon off of my itinerary (it's just a big hole in the ground anyway) and penciling in two days at Catalina.
My east coast shark diving itinerary for May is starting to fall into place so if you're anywhere between Texas and Florida come out and say hello.
For the sharks,
Andy murch
---
Saved by an angel (shark).
5th May 2009
In retrospect, driving north from San Diego when the bad weather hit may not have been the brightest thing to do. Refugio and Tajegis beaches were so churned up that I didn't give them more than a cursory glance.
By the time I hit Monterey the surf had wrapped right around the headland and was hammering the usually tranquil inner harbour. I talked to shark researcher Sean Van Sommeran who conducts an annual elasmobranch distribution study at Elkhorn Slough north of Monterey. Sean has a lot of experience working with smoothhound sharks but his organization (PSRF) has not geared up for the season yet. Although he was very friendly and gave me all the pointers he could, it was obvious that mother nature was not going to favor me this time.
I retreated to the world famous Monterey Bay Aquarium and I spent a frustrating but enjoyable day watching the leopard and sevengill sharks swimming around their tanks.
Rolling with the punches is an important part of shark photography. Surface weather, underwater visibility and sporadic shark appearances are all factors that can wreck a trip when luck doesn't run your way. Patience and the stubbornness to keep returning to a location for that illusive encounter are critical traits for anyone who thinks they might like to pick up a camera and become a serious shooter.
Sean graciously invited me to accompany him later in the summer when the weather will probably be better and with that idea in the back of my mind I headed back south through Big Sur (a breath taking stretch of rugged so-cal coastline) and caught a ferry to Catalina Island.
Left: Big Sur. Right: Claire jumping in at Casino Point, Avalon, Catalina Island.
Sadly, the promised torpedo rays had come and gone from the marine park three weeks before my arrival. For three days I scoured the sea floor hoping to find a straggler limping over the sand but it was not to be.
At night I hooked up with Jon Council who taught me to fly submersibles many years ago. Jon having done thousands of dives around Catalina gave me his take on the torpedoes. Apparently off the western side of the island there is a deep reef known as Farnsworth Bank. According to Jon (and confirmed by other local divers), torpedo rays regularly gather in great numbers along this reef and those intrepid divers that are prepared to risk the extreme narcosis that accompanies diving to 190ft may be rewarded with the site of dozens of torpedo rays literally laying on top of one another. Intriguing but very scary. Compared to most divers I get 'narked' very quickly so I am not the ideal candidate for very deep air diving. Jon suggested that we go there when I return to Cali at the end of the summer to look for smoothhounds. He offered to arrange a boat and bring scooters so that we don't have to kick too hard at depth which brings on narcosis that much quicker.
Although the torpedoes eluded me on this occasion, the trip was not a complete washout. On my second day on Catalina I found a sleeping Pacific angel shark near the wreck of the valiant at about 90ft. Angels are very patient sharks and although it was completely buried under the sand when I arrived, it let me settle beside it and dust practically all of the sand off of its back without it moving a muscle.
This was only my third Pacific angel and the clear water around Catalina resulted in much sharper images than I could have gotten on the mainland.

I also came across a number of California bat rays but they are notoriously difficult to approach. Each time I saw the telltale plume of sand that indicated a bat ray was feeding nearby I tried to hold my breath and swim slowly up to it. It never worked. On my last dive in the park I stumbled upon one more bat ray and decided to try a different tactic. Kicking furiously I swam straight at it with my camera strobes blazing. Surprisingly, it worked out quite well. The bat ray froze as I appeared in front of it and I managed to get some colorful head on shots before it came to it's senses and darted away.

That was my last west coast elasmobranch and brought my tour total up to 13 species in five incredible weeks.
The next morning I dragged all of my gear back to the mainland and headed east. 2 days and 1500 miles later I arrived in Houston to catch up with Shark Diver Magazine shooter Paul Spielvogel and to visit with Jerry and Melanie from Kickady Scuba who recently became the US distributors for Poseidon.

Jerry had me drooling over Poseidon's latest Closed Circuit Rebreather.
I now have one day to rest, catch up this tour blog and prepare for the east coast leg of my adventure. Tomorrow I leave for Mississippi to accompany Dr Eric Hoffmeyer's research team out to the barrier islands to look for a number of shark species that are rarely encountered by divers. I'm very excited about the opportunity to shoot some unusual sharks and to document Eric's work.
After Mississippi I am heading to Venice, Louisiana to join Captain Al Walker and Eli, Nathan and Paul from Shark Diver magazine on a one day hunt for Dusky sharks and scalloped hammerheads. It just keeps getting better!
for the sharks,
Andy Murch
---
Gulf Sharks
15th May 2009
The west coast and even Texas is already starting to blur. I am now driving around the Florida Panhandle looking for bluntnose and Atlantic stingrays to photograph. The last time I looked for stingrays here was way back in the point and shoot days long before I decided to become a 'serious' photographer.
Last weekend I made the pilgrimage to Venice to dive with silkies and duskies. The duskies obviously didn't get the memo but the oil rig that we dove at had so many silky sharks swimming around it that it was hard to remember that most shark species are endangered. For more than an hour we snorkeled around the boat in the presence of 100 or more sharks. The water was warm, the viz was great and the sharks were very, very friendly!
Venice is such a sharky place that it was the perfect location to reconnect with Eli, Paul and Nathan from Shark Diver Magazine. After two years apart we had a lot to catch up on. Good times, good diving and some pretty good silky pics!
After Venice I drove east to the Gulf Coast Research Laboratory in Ocean Springs, Mississippi to meet with Dr Eric Hoffmeyer. Each month Eric and his team venture into the Mississippi Sound to monitor the shark population. The sound is home to thousands of small sharks, predominantly Atlantic sharpnose sharks but also finetooth sharks, bulls, blacktips, bonnetheads and a variety of other species.
Eric has collected a wealth of data on the sharks that migrate into his domain each summer and over two days out at sea I was able to sit and soak up more shark science than I ever thought my tired brain could handle.
Eric was kind enough to halt his work long enough for me to jump into the muddy water to photograph the sharpnose sharks that he released. The visibility was horrendous (about 3 to 4ft) but some of the images that I managed to get are surprisingly clear. One more shark to add to the Elasmodiver Field Guide at the end of the tour.
The majority of sharks that are landed are tagged, measured, fin clipped, blood sampled and swiftly returned to the sound but a few of the sharks that come up the line are DOA. These are brought back to the lab for further analysis and Eric invited me to join him in the lab to document the dissection process. It was a side of shark research that I haven't been exposed to very much and it was a bit gory but fascinating to watch this aspect of his work.
After my Florida leg, I am planning to head back to MS to work with Eric again.
For the sharks,
Andy Murch
---
Down Time
6th June 2009
It has been three weeks since I updated my blog. The tour stalled when I received word that my father's health was deteriorating fast. He lives near London so I flew over to the UK to be with him.
Yesterday I returned to Miami and started the long drive back to Mississippi where I will join a week long expedition to help tag and photograph whale sharks. On Monday I am headed into the Gulf of Mexico with Dr Eric Hoffmeyer and his team. Hopefully we will see some extraordinary things over the course of the week but more about that when I return with the story.
While I was in the UK I did a lot of sitting around which gave me the chance to clean up many of my images and create a few new pages on Elasmodiver. To see all the new stuff follow the recent links on the whats new page.
Sadly that is it for progress. Not a very sharky post but the future of the tour is looking great. After whale sharks I have a week in southern Florida chasing different types of reef sharks both from shore and with my spear fishing buddies then its back to Venice Louisiana to join a dusky tagging trip.
There is also a chance that I will head out with a deep sea fisherman who has told me that he can bring up sharks from 1000ft so I am looking forward to the prospect of accompanying him to see what species he actually finds.
At the end of June I am scheduled to join another sampling trip into the Mississsippi Sound (finetooth sharks if I'm lucky) and then I really should come to grips with the idea of heading north.
I have to get to the Bay of Fundy to shoot Porbeagle sharks by the 18th of July and there are all sorts of critters to shoot along the way: Sandtigers in North Carolina, baskers in Maine, skates in Massachusettes, etc.
Finally, there is a new twist to the shark tour. I have been asked to do a couple of talks/presentations in Montreal about being a shark photographer. I'm pretty nervous about standing in front of an auditorium full of people and talking about me. I'm sure it will be fun though so I'll give it a shot. The guy who is putting it together is planning to book more venues while I am traveling so I guess I better think of something interesting to say. Creating an interesting presentation will be my project in the evenings while I am out with the whale sharks.
After Quebec it will be time to cross the continent again. I love the whole North American continent. It is full of wonderfully bizarre experiences, great people and sharks off every coast line but the west coast calls me like a siren song. Even if I only get a week on Vancouver Island this year it will still feel like I am stopping in at home.
Then I head south again back to Cali. I will stop in Washington to try my luck with sixgill sharks - they are much easier to find than they used to be. Then I am heading to Elkhorn Slough south of San Francisco to see Researcher Sean Van Sommeran of the PSRF who is planning to put me on some grey smoothhound sharks.
Then I leave the van in Long Beach and head back to Catalina to take another crack at Pacific Torpedos - I'm arranging a really deep dive off Farnsworth Bank that reputedly has torpedos lounging on every ledge.
Then back to the mainland and down to San Diego to look for Makos and possibly Threshers with one of my favorite shark friends Walter Heim. Lately I have dubbed Walter 'The Shark Whisperer' because of his uncanny ability to attract illusive sharks using patience instead of gallons of chum.
The tour has been incredible and I have extended and tweaked it a few times already and after all the changes San Diego is supposed to be the end of the road. Money and time are sadly finite commodities.
However! I am tacking on yet one more destination. I am finishing the tour by heading out to Guadalupe Island to dive with Great White Sharks with Shark Diving International and my good friend Lawrence Groth. It will be a perfect finale to one of the most epic shark journeys ever undertaken and it will bring me Full Circle. I will be back in Baja where it all began four months earlier. Sometimes there is a poetry to life that leaves me wondering if there really is a grand designer.
For the sharks,
Andy Murch
---
Tagging Whale Sharks in the Gulf
14th June 2009
I am aboard the 67ft commercial fishing vessel Norman B which operates out of Leeville, Louisiana. The Captain/owner of the ship - Russell Underwood - has a deep fascination with the ocean that he has been sailing over for the last three decades. Last year he and his crew witnessed some large aggregations of whale sharks in which upwards of 100 animals came together to feed at fish spawning events around the northern gulf. Awe struck by this amazing sight he was inspired to hang up his fishing gear for a week and invite our gang of researchers and film makers on an expedition to record and tag the behemoth sharks.
Over the past seven days we have witnessed around a dozen whale sharks feeding on dense floats of fish eggs which Dr Eric Hoffmayer will eventually identify once he returns to his lab in Ocean Springs, Mississippi.
I was invited aboard to take i.d. shots of the sharks for the Ecocean inititive. This is an international database of individual whale sharks that have been positively identified by recording the unique spot patterns that occur behind the whale sharks left gill openings.

The composition of the markings in this area does not change significantly as the animal grows so it acts like a thumb print that can be entered into a program that utilizes stellar mapping software to match up images taken at different times and places. Potentially, this can be used to track the movements of whale sharks without using expensive (and invasive) acoustic or satellite tags.
We also had three sat tags on board that Eric was able to place on the sharks. In 8 or 9 months time these devices should detach, float to the surface and transmit their data to any satellites that are passing by.
On the third day I managed to crack a rib while pulling myself back into the chase boat. If memory serves that is my 15th broken bone which is a pretty sad testament to my clumsiness or maybe I simply end up in harm's way more than most people. Either way, it made for some painful days and nights and didn't help my struggle to keep up with the sharks.
After we deployed all the sat tags we decided to spaghetti tag the other sharks so that we could tell which ones we had already swum with because one enormous spotted shark looks surprisingly like another.

When you're motoring across it, the gulf is a seemingly endless body of water and although whale sharks are the biggest fish in the sea, searching for them is like looking for the proverbial needle in a haystack. To find them we cruised along one tide line after another but you can only stare at blue water in search of fins for so long before you start to go bug eyed.
To break up the monotony, every day we tied up to one or two of the 5000 oil rigs that are sprinkled along the continental shelf. We wanted to chum up some predatory sharks that Eric was also interested in tagging. I think we were all surprised that at most of the rigs the sharks were a no show but at one particular spot we finally encountered a nice assortment of silky sharks.
I immediately jumped in with my camera which amazed the crew who see these sharks every day but live under the impression that anyone dumb enough to fall overboard would be consumed in an instant. Within a short time they developed a much better understanding of the nature of sharks and by the end of my time in the water they actually wanted to join me but I discouraged this as they didn't have wetsuits and the brush of a friendly silky shark on bare skin can result in some nasty abrasions.
Below the silkies I spotted a new shark for me! Two spinner sharks were cruising below the melee, curious but too timid to approach the chum. Spinners are notoriously shy around divers and swimmers. It is ironic that the shocking aerial shots of enormous schools of sharks swimming past Florida's busy beaches each summer are mostly pics of migrating spinners which wouldn't dream of harassing a beach goer.
They were impossible for me to approach but I fired off a few frames from a distance and the resulting i.d. shots are grainy but better than I thought they'd be.

While on the rigs the crew threw in their bottom fishing gear and brought up an interesting assortment of fishes. Some of these ended up in the pot but being a 'veggie' I didn't sample any of them. The highlight for me was a Gulf of Mexico Smoothhound Shark which I photographed from every angle before releasing it under the rig.
Tomorrow morning it will all be over. Captain Underwood and his crew David, Jack and Ron will go back to fishing for red fish and grouper, Eric and his assistant Jenifer will return to their lab, Film Maker Ulf Marquardt will fly back to Cologne to edit his documentary and I will drive down to Port Charlotte in southern Florida to pick up my (hopefully fixed up) camper van and head to the keys to chase stingrays and nurse sharks. But, this adventure will live on as one of the highlights of the North American Shark Diving Tour.
For the sharks,
Andy Murch
---
Back in the Gulf
25th June 2009
Since my last post, I have been shooting rays down in South Florida again and have once more returned (for the final time!) to the northern gulf. All the back tracking is a bit painful but it gave the garage time to fix up my vw van. Now I have a tour bus that purrs like a kitten and I'm in good shape to start heading north.
While in the sunny south I hooked up with my good friends who run Scuba Works in Jupiter, FL. Jupiter is the sharkiest spot in So Flo for big carcharinid sharks like lemons and bulls but sadly we were not able to entice any of them up from the depths.
The shore diving was fun and I photographed some yellow stingrays for posterity. These are not a new species for me but the last time I shot them I was wielding a Sony Cybershot point and shoot. That was back in the days when shark and ray photography was a hobby with no pressure other than the personal satisfaction of nailing the shot; ah the good old days.
I also went diving with Brendal and Ryan from Prodive USA in Fort Lauderdale. Brendal is a serious shark conservationist and is a campaigner for Shark Savers. So, between dives I sat and discussed tactics in the struggle to save sharks.
Brendal is hoping that Shark Savers will ultimately fall under the umbrella of Shark Safe (the names get confusing) which is a budding alliance of grass roots conservation organizations. The idea is that if all the shark conservation movements can work together they will have significantly more clout. I'm all for it.
The Fort Lauderdale dives were fun and I did see some nurse sharks but after a few days the call of the unusual lured me back to the gulf.
First stop back in the Panhandle was Panama City. Each time I come here I see something different. The first year it was all Atlantic stingrays, then it was mobulas and southern stingrays. This time the ocean surprised me again by offering up a pier full of Atlantic guitarfish. I love the diversity of the Gulf of Mexico!
For the Sharks,
Andy Murch
---
Groundhog Day on the Redneck Riviera
5th July 2009
The last couple of weeks have been a disaster. On the morning that I loaded my last blog onto the internet I drove from Panama City to Destin (about 50 miles) and blew a check valve on the exhaust vacuum line. It should not have been a show stopper in the scheme of things but once the hot air started backing up, a junction exploded and the escaping gas welded my throttle cable in 'accelerate'. Once the initial excitement of not being able to slow down had gone through all the subsequent stages of concern, fear, desperation, drastic clutch squealing activity and eventual calm retrospective contemplation, I got a tow to a garage and considered my very short list of options. As Murphy's Law would have it; it was 5.30 on a Friday night.
The mechanic said that because it was a VW he needed to talk to the dealer which was closed until Monday so I rented a car and hung out in a broken down hotel for the weekend.
I should point out that I am a very driven person. I will go to insane lengths to make sharky things happen and when forced to sit around and let events play themselves out I quickly go stir crazy.
Monday dawned and at 8am I was back at the garage listening to the bad news. The parts needed to be flown in from LA and would take a week. Not good. Not good at all. Didn't these people realize that I was on a mission?
I bought a $30 Walmart tent and booked into a local campground. The plan was to ignore this setback, swallow the cost of the rental car and repairs to the van and spend the week snorkeling with rays off the local beaches. It didn't sound too bad. I could campground hop along the gulf and zip back the following Monday to pick up the camper and head north. What I didn't anticipate was the green goo which hits the northern beaches around this time each year rendering visibility non existent.
Every beach that I approached looked like it was covered in lime flavored Gatorade. It has been a grim week.
I spent the 4th of July frying on a muggy beach east of Port St Joe, getting nailed by sand flies and hoping that the rough surf would abate long enough for me to snorkel out beyond the algae covered shoreline but it was not to be.
At least I would get my van back on Monday and then be able to go out with Eric Hoffmayer over in Mississippi who promised to try to find me some finetooth sharks. But in true groundhog day form, this morning I awoke to another day of green goo, high surf, an email from the garage stating that the parts wouldn't be there until at least Wednesday and a phone call from Eric saying that a storm front was moving in and the sampling trip was being rescheduled. Time to sit in the campground and suck back another Landshark Lager and shake my head at the shark gods....

For the sharks,
Andy Murch
---
Sorry for the long overdue update. My PC died and I have spent the last couple of weeks learning to speak mac.
After two very frustrating weeks in the Gulf of Mexico waiting for spare parts for my camper, I needed a shark fix. It had to be a good one too, not just a momentary glimpse of a fleeing nurse shark or a mad scramble after a bolting stingray. Unfortunately, uncooperative weather continued to thwart any attempts to head out to sea so rather than battle the elements I drove north to land locked Atlanta.
Now, at first glance Atlanta may not seem like a shark diving hot spot but a dip in the Ocean Voyager exhibit at the Georgia Aquarium is a quick way to tick off a dozen or more shark and ray species from your life list without even driving to the beach. And, if that in itself isn't enough of a draw; topping the bill in the football field sized tank are four enormous whale sharks which were transported here from Taiwan in the bad old days before the Taiwanese banned the harvesting of whale sharks for consumption.
As whale sharks go, these ones are still relatively small but they are impressive never the less and with a regular diet of krill (or fish pellets that do the same job) they are growing fast. Sadly, two of the original sharks died from a reaction to an antibiotic but these have been replaced and all four of the present sharks appear to be in good shape.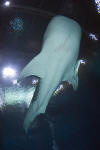 I listened intently to the dive briefings and watched the video that all potential divers get before entering the tank and then eagerly jumped into the crystal clear water and descended to the sand. As soon as my entourage of divemasters were happy with my buoyancy I drifted into the centre of the upper bowl of the tank. This half of the exhibit consists of a large shallow area devoid of obstructions where different species of sharks and rays can swim around unimpeded or sprawl on the bottom as they see fit.
While the other divers marvelled at the giants gliding overhead, I made a beeline for a large sawfish that was lurking on its own in the far corner. Sawfish absolutely fascinate me. How exactly they evolved to have an enormously long rostrum studded with wicked looking spikes is beyond me.

Unfortunately, their saws which they use to slash into schools of fish when feeding, have also become their downfall. Sawfish often get inextricably tangled in fishing nets and even if the nets are recovered before the sawfish die, many fishermen would rather kill them than risk injury trying to extricate them unharmed. There are also a few unscrupulous fishermen that actually target sawfish and hack off their saws to sell as curios on the black market. Consequently, they are now critically endangered worldwide.
There are two species of sawfish in the Atlanta Aquarium: green and largetooth. The largetooth sawfish are impressive in their own right but the green sawfish are impossible to ignore. Under the soft lights of the tank they appear to radiate a subtle golden light.

Sawfish are not the only large rays in the tank. There are a number of alien looking bowmouth guitarfish and some enormous shark rays. All of these are accustomed to close encounters with divers and snorkelers so it is possible to plonk down on the sand right next them and really study them in detail; not something that is easily accomplished in the wild.
Other rarities include fantastically patterned leopard whiptail rays which I have tried to shoot in the wild in Australia but could not get anywhere near before they exploded away in a cloud of sand, and southern stingrays, pink whiptail rays, small groups of cownose rays and amazingly, a manta ray!
As for sharks, during the dive I was regularly buzzed by great hammerheads, zebra sharks and sandbar sharks. Sandtigers floated around as only sandtigers can and a number of wobbegongs (both tasselled and spotted) sprawled lazily on rocks and on the acrylic tunnels that were full of wide eyed spectators.
After snapping away in the upper bowl for a while I drifted down into the deeper half of the tank and checked out some of the sharks and rays that prefer to stay in that area. As instructed, I did my best to remain in the lower third of the water column so that the whale sharks could swim around in peace. Occasionally, one would swim by quite closely, perhaps to check me out, but for the most part the whale sharks stayed at the surface where they could cruise in long straight lines without interruption. The tank was designed so that the whale sharks have enough room to turn, swim towards the far end of the tank for a while and then glide for a bit. Studies of other aquarium sharks have shown that this is important because the sharks do better if they can rest for a short time before they have to turn again.
The whole time that I was swimming around I was trying to gauge whether the tank's inhabitants were suffering from overcrowding. I'm still not totally sure but I didn't see any sharks or rays trying to avoid each other by sudden directional changes. In fact the only time that any of the animals moved quickly was when I invaded their space. Also, very few of the animals had grazes on their noses or pectoral fins which would be a sure sign that they are having trouble swimming or are generally not comfortable in the tank.
With so much to look at it is not surprising that the dive was over long before I was ready to surface. I reluctantly exited the tank and cleaned up. The staff then presented me with a goody bag full of sharky stuff and I sat down with Dr Bruce Carlson who filled me in on some of the research that the aquarium funds.

The Georgia Aquarium is involved with a number of projects including a long term study of the yearly whale shark aggregation near Holbox, Mexico, which is the largest known annual gathering of whale sharks in the world. In conjunction with Bob Hueter from Mote Marine Laboratory in Florida, the aquarium has been tagging and measuring as many whale sharks as possible each summer to try to determine where they migrate to, how fast they grow and many other unanswered questions. Dr Hueter is expected to publish his findings shortly.
I spent the rest of my day roaming the halls of the aquarium and people watching. Whether you're pro-aquarium or not there is no denying how engrossed everyone was with the shark tank and that is a lot better than seeing people drawn to a large shark carcass hanging from the gallows on a fishing pier.
Armed with a fist full of new species I hopped in the shark bus and drove north.
Because of the van delays I had to skip NC with it's famous sandtiger shark dives but thank you to Outer Banks Diving for the invitation. Next time I'll get there even if I have to hitch hike!
From Georgia I drove straight to New England to look for skates. I spent a fun week exploring the New England coastline in search of skates but my time in Rhode Island is a hilarious story in itself. This is what I jotted down at the time:
In the quest to photograph rare and endangered sharks and rays I have found myself in some unusual situations. I've jumped off research vessels into racing currents, snorkeled down rivers and hitched rides on commercial fishing boats. Today however, I took part in one of the funniest shark shoots I will probably ever have.

I am in Rhode Island staying with Joe Romeiro who's latest short film Death of a Deity recently won him the 'Best Emerging Film Maker Award' in the Blue Underwater Film Festival.

Joe is a self confessed shark fanatic. His house is a shrine to everything sharky, complete with a large tank that holds a variety of small sharks that Joe has rescued from fishing nets and cramped home aquariums and is in the process of rehabilitating.

When I told Joe that one day I hoped to photograph a chain dogfish which is a beautiful little catshark that lives all along the east coast from New England to the Caribbean, Joe suggested that we take one of his recovering chain dogs for a walk at the beach. Initially, I thought he was joking but the more we talked about it, the less hair brained the idea seemed.

Chain dogfish (Scyliorhinus retifer) normally live at depths between 200ft and 2000ft making them virtually inaccessible to all but the most experienced tech divers. I have heard of tech heads diving really deep wrecks in the Carolinas that are literally teaming with chain dogs but without a rather lengthy and expensive Trimix course there isn't much chance that I will see one any time soon.

While I thought about the idea I did a little shore diving, partly to try to photograph some of the skate species that live off Rhode Island and partly to find a nice site that would be a suitable spot to walk the dog. King's beach near Newport turned out to be ideal. It was close enough to Joe's house to ensure that the hardy little shark wouldn't have any trouble with the journey and it has some nice varied terrain offering us a choice of back drops for the shoot.

We waited till late afternoon when the sun would be the least stressful to the deep water shark and with everything prepared, Joe scooped up the tiny chain dogfish (that we affectionately named Steve) and lowered him into a bucket just big enough to keep him comfortable without letting him slosh around on the windy roads. Joe then transferred Steve (in his bucket) into his girlfriend Emma's SUV and we began the zip across town to Kings Beach.

I confess that we probably bent a few traffic laws to make sure that Steve didn't spend too long in his cramped environment but being a buccal ventilator (able to suck in oxygen rich seawater without having to swim forward) the tiny catshark would probably have been fine for hours.

At the beach we raced to get our gear on while Emma carried Steve down to the shallows and lowered the bucket into the sea to let the water temps equalize. Some curious tourists asked what we were doing with all the cameras so we said that we were going shark diving. They asked rather nervously if there were many sharks in these waters but we said "No, we brought our own" which left them with baffled looks on their faces.

It was a comical site as the three of us stood in waist deep water waiting for the shark to be released. After some discussion on how best to liberate Steve I reached into the bucket and scooped him up in one gloved hand and swam slowly into clearer water where we could follow him if he decided to bolt.

As soon as he was released he smelled freedom and shot skyward then drifted back towards the sea bed with us in hot pursuit. For a few seconds it looked as though Steve was going to disappear into the depths but before long he got used to his enormous escorts and swam slowly around while I took pictures from every angle.

Once I was happy, Joe took over with his video camera and filmed some beautiful sequences of the exquisitely patterned catshark swimming over the reef.

I headed back to shore to give Joe a little more space. Emma was waiting in the shallows with the bucket and before long Joe materialized with Steve swimming ahead of him. Every now and then he would put a hand near Steve's left or right side to keep him pointed in the right direction. As they reached the shore Emma dropped the bucket back into the water and deftly scooped up Steve who seemed none the worse for wear.

We drove water logged back to Joe's house and quickly slipped Steve back into his tank with the other sharks which are in various states of rehabilitation. Periodically, Joe and Emma checked to make sure that the chain catshark was doing ok and the last report we got was that Steve was behaving as though nothing had happened. I imagined the conversation in the shark tank that night "Guys, you're never gonna believe what happened to me... "

Considering the condition that Steve was in when Joe first got him, he is now in great shape so the next time that Joe decides to walk the dog it will be a one way trip. He plans to choose a site where there is a drop off close to shore so that the shark can find its way into a deep water without too much effort.
After New England I had just enough time to drive up to the Bay of Fundy to board the Storm Cloud. I was racing to join a Porbeagle tagging trip with Sharks Unlimited and my friends from UNB. It was a one shot deal and because it was a bit early in the season we struck out. This was my third year with the Porbeagles and I have some pretty good shots already so I was ok with that. A couple of days later the same thing happened in Baie Comeau. I could only allot one day to go after Greenland Sharks - strike two.
The moral of the story is that getting the shot is all about time in the water. If you can't put in the time, you'll probably go home empty handed. I've been telling other divers this for years but in reality I usually just get lucky. Lesson learned.
After a couple of days chasing gray seals around the Gaspe Peninsula I drove down to Toronto and took the van in for new tires and brakes. It was good timing because my next leg is a marathon drive to San Diego to look for smoothhound sharks, leopards again, soupfins, more blues, shortfin makos and California butterfly rays and then I will finish the tour in style by joining Lawrence Groth at Guadalupe Island to film Great Whites.
I stowed everything as best I could and took off for the border but unfortunately I got about 10km down the road and hit an enormous pothole on the freeway and nearly wrote off my camper.
I'm fine but my poor VW ended up back in the shop with two flattened rims, wrecked brakes, and a nasty oil leak that was rather worrying. This one hurt. Of course, it was Friday night before a long weekend - again!
It's all fixed now and I'm finally on my way. The camper has a few more creeks and scrapes and a little more duct tape holding it together but its rolling. Hopefully, my next blog will be from Southern California. First stop La Jolla. Come and join me if you're down that way.
For the sharks,
Andy Murch
---
The Shark Tour Goes Full Circle
I made it back to So Cal. After a four day drive across the USA from the far north east to the extreme south west I arrived in San Diego exhausted but ready for some serious shark hunting. I'm happy to say that my camper held up fine even at 12,000ft when I crossed the Rockies. After an epic 24,000km round trip from Southern Baja, up the west coast of California, across to the Gulf of Mexico, around Florida, back to the Gulf, up the east coast to the very eastern tip of the Gaspe Peninsula in Canada, down to Ontario and diagonally back to the Baja border, my VW (which now has almost 350,000km on the clock) is purring like a kitten.
The night I arrived in San Diego I jumped straight in at La Jolla shores to wash the desert out of my eyes and to reacquaint myself with the leopard sharks. True to form, there were dozens of leopards swimming around in the surf zone, as well as a bunch of shovelnose guitarfish and some very cute pint sized bat rays.
I spent the next few days trying to figure out where the soupfin sharks were hiding but alas they eluded me. Cryptic reports of sightings came in from a number of local divers but other than a quick glimpse of a shadowy caudal fin, I free dove, scuba dove and snorkeled in vain.
After four days diving the cove, my buddy Walter Heim (who I have dubbed 'the shark whisperer' because of the subtle way he attracts sharks to his boat) took me out to look for blues and makos. I already had some nice blue shark pics from the beginning of the tour so I was keen to top off my earlier success with some shortfin mako shots. I spent two calm and sunny days with Walter drifting off the coast of La Jolla. In all, we attracted 3 blues and 2 makos. Not that many sharks compared to the glory days when scores of blue sharks would drive divers from the water but its not always about quantity.
Judging by his scars, one of the blues was a major scrapper. The others were sleek but timid and left even before I had entered the water.
One of the makos was also rather shy but the other was a serious player. It was the type of shark that makes up for every frustrating, half glimpsed, painfully short encounter that you've ever had while shark diving.
Initially he was quite shy but once he got used to me he came in close - VERY close. This little mako couldn't get enough of my camera. I patiently bobbed around on the surface each time he disappeared wondering if he would return. After a minute or two he would show back up and I'd toss him one of the scraps that Walter had supplied me with. Then we'd both race at the bait and the mako would snatch it up and then turn and try to bite my dome port. The images below tell the tale. There are some even closer ones that I'll share with you after they get published.
After shortfin makos with Walter it was time to go after the big guys with Lawrence Groth. Lawrence pioneered the white shark cage dives at Guadalupe Island and his Shark Diving International trips are probably the best in the world if you want to encounter white sharks. I met up with 13 other like minded shark fans and traveled together down to Ensenada where we boarded the Solmar V.
Guadalupe never disappoints. On this trip the sharks started lunging for the hang baits even before the crew had lowered the cages into the water. There were a few slow periods when the sharks disappeared to investigate other boats but overall the action was intense. On the third and final day, Lawrence's favorite white shark named Zapata showed up. Zapata is a serious showman. Some white sharks (regardless of their size) are surprisingly timid but Zapata is as bold as his namesake. He repeatedly plowed through the water right next to me demonstrating that he could care less about the bubble blowing monkeys in the little cages. Not surprisingly all of my best images are of him.
In the evenings I had plenty of time to talk sharks and enough time to schmooze with some old friends that were working at the island. White shark researcher Mauricio Hoyos was there for a three month stint conducting his acoustic tagging study. Each year Mauricio lives in an old shack on Prison Beach near where the shark diving boats anchor. He leads a very primitive existence while in the field but he loves what he does and is totally committed to continuing his research into the movements of the sharks around the island.
Nat Geo shooter ABC (Andy Brandy Casagrande) and the crew of the piratical looking Captain Jack were also moored nearby shooting some out of the cage white shark action.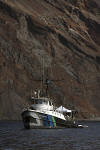 Last December I spent a memorable two weeks working with them in the very same spot so it was great to have a chance to catch up. Andy has an endless supply of shark and other big animal stories and he brought over a copy of his 'Great White Shark Song' which features him playing the guitar underwater while swimming next to a white shark. It sounds hokey when put like that but it has a strong conservation message and is well worth watching:
http://www.abc4explore.com/greatwhitesharksong.html
As the cages were loaded back onto the boat I sat and thought about my North American Shark Diving Tour. In the last four months I have driven full circle around most of the continent. I have encountered 33 species of sharks and rays (not including my dip in the Georgia Aquarium). I have collected an impressive variety of elasmobranch images including flying mobula rays, mating round stingrays, enormous whale sharks, tiny deep sea catsharks and two species of sharks that have never been photographed in the wild before.
I have met and worked with hundreds of people including divers, researchers and fishermen and seen sharks in all their splendour and witnessed their plight first hand. I have learned a lot and have been able to tell everyone that would listen about the problems of over fishing and the fragile state of North America's shark populations. It has been an amazing adventure.
Officially, the North American Shark Tour is now over. But, in the greater context, the shark tour started long before I set out from southern Baja and it will never really end. The quest for images of rare and endangered sharks and rays has defined my role on this planet for the better part of a decade and if I can sell enough images to keep me solvent I expect that I will continue to chase illusive sharks for many years to come.
Right now I am on Catalina Island hunting for Pacific torpedo rays and working out a game plan for the next few months. Pretty soon I will head north to the beaches near Santa Barbara to take another look for swell sharks and angels. Then I'm driving up to Monterey, Elkhorn Slough and San Fransisco Bay to see if I can photograph grey and brown smoothhounds.
By September I will be up in Canada working on cataloging my images from the tour (a daunting task) and rebuilding Elasmodiver with a completely new feel (an even more daunting task). Here is a sneak peek at my new logo:

While I'm 'stuck' on beautiful Vancouver Island I will make a concerted effort to document the few species of elasmobranchs that I've missed in the past. That means a lot of swimming around in muddy bays hunting for deep water skates which doesn't sound that glamorous, but to me it can be just as rewarding as finning along with a 40ft whale shark so life will not be so bad.
I also have a lot of other things bubbling including a number of book projects, a few photography courses, some local shark campaigning and of course the planning of my next expedition - the continuation of the shark tour.
After so much time in the water I have a bunch of new species to add to the elasmodiver field guide and hundreds of new images to upload to the shark picture database so please keep an eye on the elasmodiver home page to see what's new.
Thank you to everyone who contributed their time, services, gear, boats, expertise and local knowledge to help me find the species I was after. Thank you also to everyone that emailed me with words of support and encouraged me to keep going through break downs and foul weather. I couldn't have done it without you. As my dad (who passed away during the tour) liked to remind me "No man is an island".
For the sharks,
Andy Murch
Monday

Tuesday

Wednesday

Thursday

Friday

Saturday

Sunday

April

1

Cabo Pulmo

Mobula Rays, Banded Guitarfish,

etc.

2

La Paz

Visit with GWShark researcher Mauricio Hoyos

3

La Paz

Visit with GWShark researcher Mauricio Hoyos

4

Return to Cabo Pulmo for second chance with mobula rays

5

Cabo Pulmo

Mobula Rays

6

Cabo Pulmo

Mobula Rays

7

Drive north of La Paz to talk to fishermen

8

Possibly dive with fishermen

Pacific Sharpnose Sharks

9

Possibly dive with fishermen

Pacific Sharpnose Sharks

10

Drive to Playa Conception

11

Playa Conception

Round stingrays

Cortez stingrays

12

Playa Conception

Round stingrays

Cortez stingrays

13

Drive to Guerero Negro and talk to the Pescadores

14

Accompany fishermen in Bahio Viscano

Smoothhound sharks

15

Accompany fishermen in Bahio Viscano

Smoothhound sharks

16

Drive to Bahia de los Angeles

17

Dive with Ricardo. Look for Mexican Bullhead Sharks

and others?

18

Dive with Ricardo. Look for Mexican Bullhead Sharks

and others?

Drive to San Diego

19

Accompany Walter Heim to tag sharks near SD if he's operating his boat already.

20

San Diego /

La Jolla. Dive the cove. Look for soupfins, leopards. It's a bit early

21

La Jolla night diving with Horn Sharks, guitarfish, and others.

22

La Jolla night diving with Horn Sharks, guitarfish, and others.

23

San Diego. Try to hook up with the urchin fishermen to shoot sevengills

24

Drive to Refugio Beach. Shore dive with Swell sharks

25

Drive to Monterey

26

Look for gray and brown smoothhounds at Elkhorn Slough and San Fransisco Bay

27

Drive South

28

Dive Refugio and Tajegis for swell sharks and angels.

Drive to Dana Point

29

Ferry to Catalina.

Look for Pacific Torped Rays.

30

Pacific torpedo rays at Casino Point

MAY

01

Pacific torpedo rays at Casino Point

ferry back to Dana point.

Drive to San Diego.

02

Dive with Walter for blues and then look for Leopard sharks at the Marine Room.

03

Dive the cove early and then drive east towards Texas.

04

Drive East to Texas.

05

One day off in Houston to hang with the Shark Diver Mag gang and fix our poor VW camper!

06

Drive to Mississippi

07

Accompany Dr Eric Hoffmeyer on field trip to barrier islands near Mississippi Delta

08

Accompany Dr Eric Hoffmeyer on field trip to barrier islands near Mississippi Delta

Drive back to Venice

09

Dive in Venice Louisiana

Dusky Sharks, Hammers, silkies and who knows!

10

Drive to Panhandle.

11

Snorkel with Bluntnose and Atlantic (freshwater) stingrays

12

Snorkel with Bluntnose and Atlantic (freshwater) stingrays

13

Drive to the Florida Keys

14

Dive the keys

15

Dive the keys

16

Drive up to Lauderdale and shore dive with yellow spotted stingrays

17

Dive the Sea Emperor.

18

Dive Stingray Alley

19

Venice beach

Shark teeth fossil hunt.

20

Drive to Fort Meyers to see Great White Adventures founder Lawrence Groth.

21

Great Hammerheads in Boca Grande

22

Great Hammerheads in Boca Grande

23

Stop Tour

Fly to UK

24

UK

25

UK

26

UK

27

UK

28

UK

29

UK

30

UK

31

UK

JUNE

01

UK

02

UK

03

UK

04

Return to Miami from UK

05

Accompany Sawfish researcher on sampling trip.

06

Great Hammerheads at Boca Grande, FL.

07

Drive back to Venice, Louisiana.

08

Drive back to Venice, Louisiana.

PM.

Board tagging boat.

09

Accompany researchers from GCRL on whale shark tagging expedition.

10

Accompany researchers from GCRL on whale shark tagging expedition.

11

Accompany researchers from GCRL on whale shark tagging expedition.

12

Accompany researchers from GCRL on whale shark tagging expedition.

13

Accompany researchers from GCRL on whale shark tagging expedition.

14

Accompany researchers from GCRL on whale shark tagging expedition.

15

Accompany researchers from GCRL on whale shark tagging expedition.

Drive to Alabama.

16

Drive back to South Florida

17

Dive the keys in search of Nurse sharks and yellow spotted round stingrays

18

Dive the keys in search of Nurse sharks and yellow spotted round stingrays

19

Stingray Alley

20

North Palm Beach boat diving for reef sharks etc.

21

Drive to St Johns river system.

22

Snorkel in freshwater spring to search for Atlantic stingrays

23

Drive to Ocean Springs,MS.

Maybe shoot rays along the way.

24

Head to Venice Louisiana.

25

Dusky Shark Tagging trip.

Venice, Louisiana

26

Dive Perdido Wharf and Gulf Shores for

butterfly rays and Bancrofts electric rays

27

Dive Perdido Wharf and Gulf Shores for

butterfly rays and Bancrofts electric rays

28

Dive offshore with Diver Down in Gulf Shores looking for Guitarfish, Angels, etc.

29

Head to Panama City

30

Panama City

Snorkel / dive with bluntnose and Atlantic stingrays.

JULY

01

Panama City

Mobula Rays on the beach

02

Hunt for Electric and Butterfly rays

03

Hunt for Electric and Butterfly rays

04

Hunt for Electric and Butterfly rays

05

Drive back to Ocean Springs, Mississippi.

06

Finetooth and sharpnose sharks in Ocean Springs, MS.

07

Shark Talk / presentation Ocean Springs

08

Drive to North Carolina.

09

Drive to North Carolina

10

Dive the Outer Banks from Cape Hatteras

11

Drive to Rhode Island

12

Skates and Catsharks in New England

13

Skates and Catsharks in New England

14

Skates and Catsharks in New England

15

Skates and Catsharks in New England

16

Skates and Catsharks in New England

17

Drive to Alma, New Brunswick, Canada.

18

Bay of Fundy Porbeagle Shark expedition with Dr Steve Turnbull UNB.

Drive to Baie Comeau, Quebec.

19

Drive to Baie Commeau.

20

Baie Commeau

Greenland Sharks

21

Drive west.

22

Shark Talk in Montreal ?

23

Drive to Ontario

24

Go Rock Climbing!

25

Drive west

26

Drive west

27

Drive west

28

Drive west

29

Drive west

30

31

August

01

02

03

04

Dive with Spiny Dogfish Sharks on Quadra Island

05

Dive with Spiny Dogfish Sharks on Quadra Island

06

Day in Victoria

07

Drive to Washington

08

Dive with Sixgills?

09

Drive south to California

10

Elkhorn Slough Grey Smoothhounds with PSRF

11

Elkhorn Slough Grey Smoothhounds with PSRF

Drive to Long Beach

12

Ferry to Catalina Island.

13

Pacific Torpedos at Farnsworth Banks

14

Drive to San Diego.

Shore Dive with Leopard Sharks

15

Accompany Walter Heim

to shoot Makos, blues and....?

16

Dive somewhere around SD - its such a sharky place!

Drive to Ensenada.

17

Great White Shark trip to Guadalupe Island with Shark Diving International

18

Great White Shark trip to Guadalupe Island with Shark Diving International

19

Great White Shark trip to Guadalupe Island with Shark Diving International

20

Great White Shark trip to Guadalupe Island with Shark Diving International

21

Great White Shark trip to Guadalupe Island with Shark Diving International

22

Hmm...?

23

24

25

26

27

28

29

30

31

September