The North American Shark Diving Tour - Sevengill in San Diego (aka The Cove)
First published in Shark Diver Magazine November 2009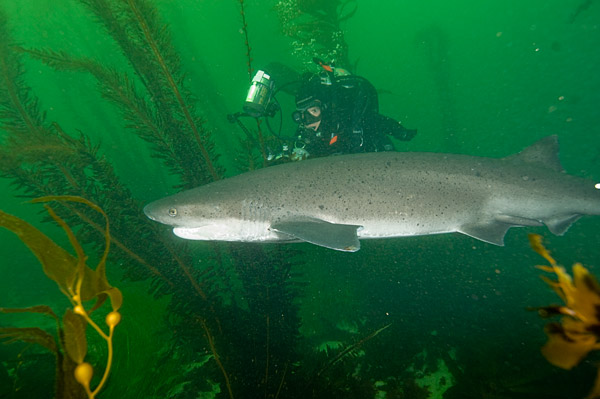 After our success in Mulege we decided to try the same approach on Baja's wild west coast where panga fishermen reputedly target brown smoothhound sharks in the turbulent waters of Bahia Viscaino. We drove over the mountains to scruffy Guerrero Negro and then bounced along a rutted dirt road bound for a remote fishing camp at the end of a long windswept peninsula. When we arrived, close to sunset, the camp was deserted. We cooked up a meal and explored the remains of the crumbling village which was dominated by a looming derelict lighthouse. Abandoned pangas lay high up on the bank and a couple of mangy stray dogs barked forlornly adding to the feeling of desolation.
While we sat in the half light deciding what to do, I wondered if all the other shark fishing camps in Baja would eventually resemble this decrepit scene.
Spooked by the solitude we opted to drive back into town for the night but finding no fishermen talk to anywhere, we drove onward across the desert into Baja California Norte. The next night we camped among boojum trees and giant cactuses and then drove hard until we hit the US border. After five months in small town Mexico, San Diego's sky scrapers, bright lights and supermarkets stuffed full of produce were a shock to the senses.
Our plan was to explore La Jolla Cove north of the city. The cove is surrounded by a forest of giant kelp and is home to horn sharks, banded guitarfish, shovelnose guitarfish and in early summer, soupfin sharks. Every now and then a lucky diver will even see a broadnose sevengill shark.
We talked to a bunch of local divers and found out that a sevengill had been recently spotted in the kelp forest about a 10 minute kick out from the beach. We were itching to go hunting for it but by the time we got to the cove the wind was howling and throwing waves against the entry point that were big enough to drown an elephant seal. It wasn't until three frustrating days later that we finally geared up and kicked out towards the forest.
We swam on the surface until the blanket of kelp fronds grew too dense for us to penetrate and then we descended to the bottom at about 40ft and wove between the stalks until we were utterly lost in the woods. We continued out to sea relying on our compasses to bring us home and then it appeared. An 8ft sevengill shark, the first either of us had ever seen in the wild, came gliding like an apparition towards us out of the forest.
Now, there is no denying that I am a lucky shark photographer but I also try to stack the odds in my favour. Firstly, I do my homework. For example, on this occasion we were looking for sevengills while the white sea bass (one of the sevengill's favorite snacks) were migrating through the area. Secondly, I spend more time in the water that most people would dedicate to waiting for a shark that probably won't show up. And thirdly, I wear lead horseshoes instead of conventional dive weights – just kidding. But, what are the odds of hitting the jackpot after 5 minutes at a dive site where local divers sometimes wait years to see their first sevengill? I felt almost embarrassed as I swam after the big, snub-nosed predator.

The shark slipped past me before I could frame a shot but it confronted Claire head on. It was a great angle and I was surprised that Claire didn't even raise her camera. I had no idea that she was desperately trying to weigh up whether she should shoot the sevengill or be a good model. After no more than a second of hesitation, she fell into step on the far side of the shark so that I could get some pics that showed the shark's true size.
I raced to catch up and snapped a couple of profile shots but within a few seconds the sevengill outpaced us both and disappeared back into the undergrowth.
We started towards shore but stopped when we saw a banded guitarfish lounging on the sand. This time Claire dove straight in, framing shots from all angles that resulted in some very respectable images. Later in the dive we also disturbed a couple of feeding bat rays but it wasn't until we were right back in the shallows that we found more sharks.
The terrain close to shore changes considerably. Kelp and sand give way to rocks covered in swathes of bright green sea grass which houses all manner of marine life including lots of juvenile horn sharks. One local diver told us that he once counted more than 30 horn shark pups on one dive here but sometimes there are only a few. I decided to dub this area the 'Horn Shark Hotel'.
The best thing about the horn shark hotel is that it is so shallow and close to shore that after a long dive you can still chase horn sharks to your heart's content and then quickly crawl up the beach when you've completely drained your tank; my kind of dive site.
We dove the cove every day until it was time to move on. Between dives we snorkeled with leopard sharks, baby bat rays and shovelnose guitarfish at La Jolla Shores. It was a dreamy few days but it wasn't all that La Jolla had to offer.
On our last day we joined Walter Heim who spends much of his free time drifting in a small boat off the coast of San Diego in search of pelagic sharks. Walter is a highly accomplished photographer who's mako images have been widely published, including on the cover of SDM.
May was a little early for makos so Walter found us a couple of nice blue sharks to play with. Blues are such easy photo subjects that within minutes we had more images than we knew what to do with. We spent the rest of the day watching for fins and talking about the shark tour. Walter invited us back to chase makos later in the summer but that was going to be tricky because the tour was supposed to end in Eastern Canada. As we bid San Diego farewell, Claire and I were busy plotting.
Author: Andy Murch
Andy is a Photojournalist and outsoken conservationist specializing in images of sharks and rays.
RETURN TO SHARK STORIES MAIN PAGE