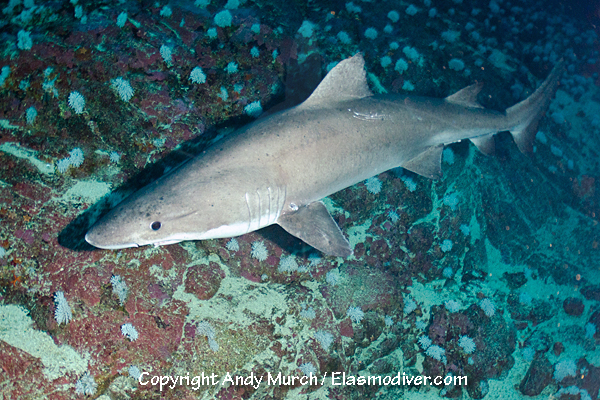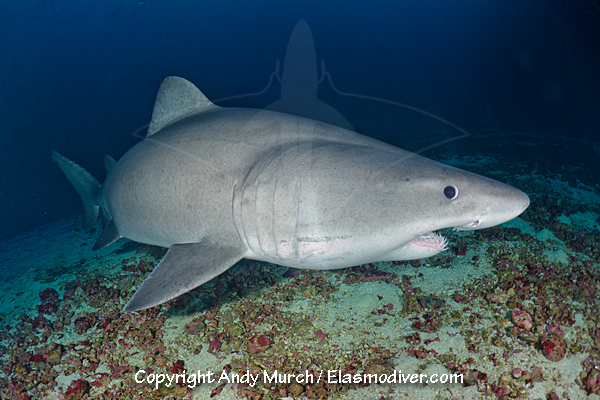 Photograph by Andy Murch. All rights reserved.
View all available Smalltooth Sandtiger Shark Pictures in the Shark Pictures Database
Common Names: Smalltooth sandtiger shark, Bumpytail raggedtooth shark.
Latin Name: Odontaspis ferox.
Family: Odontaspididae.
Identification: Heavy set body. Origin of first dorsal fin level with posterior margin of pectoral fins. Second dorsal fin roughly 2/3rds as large as first dorsal. Snout more conical than the Sandtiger shark Carcharias taurus. Dorsal coloration brown to greyish gold usually with some scattered darker spots or blotches. Ventral coloration pale/white. Eyes large. Teeth pointed with long central cusp plus two small cusps on each side.
Size: Maximum length 410cm.
Habitat: The smalltooth sandtiger is found on or near the bottom on rocky reefs and sand slopes in temperate and tropical waters. From 13 to 420m.
More common below 60m.
Abundance and distribution: Maybe worldwide in temperate and deep tropical seas. Scattered records from both side of Central America, Southern Europe and North Africa, Madagascar, Southern India and Northern Australia suggest a broad distribution.
Behavior: Smalltooth sandtigers are usually seen circling slowly on deep reefs or in gullies. Often in small groups or alone.
Reproduction: Presumed viviparous. Pups are fed by oopagy i.e. eggs are released from the ovaries to feed developing embryos.
IUCN Red List Status: As of 2011 considered vulnerable. Rare and numbers decreasing.
Photographs: Bajo del Monstruo, Isla Malpelo, Columbia.
Similar species: Sandtiger shark (Carcharias taurus). Identified by more dorsally compressed snout, smaller eyes and with a first dorsal fin positioned much closer to the pelvic fins.
Reaction to divers: More or less ignores divers unless very closely approached. Not known to be aggressive but rarely encountered.
Diving logistics: Encountered in very few locations by divers. Seen fairly regularly in deep water (60m+) on Bajo del Monstruo - a dive site at Isla Malpelo which is approximately 200 miles off the Pacific Coast of Panama. Trips to this remote and extremely shark infested island can be arranged aboard the Inula - a liveaboard catamaran that makes 11 day trips to the island. The smalltooth sandtiger sharks are present between December and April but there is no guarantee that they will be present. The Inula has around a 70% success record of finding these sharks. Trips during the peak sandtiger season can be arranged through Big Fish Expeditions.
Smalltooth sandtiger sharks are also occasionally seen during the summer in relatively shallow water at El Hierro in the Canary Islands. Sightings at this location are far more unpredictable than Malpelo.
The third location where these sharks are encountered is off the coast of Lebanon at a dive site named Shark Point. Divers interested in this dive should contact dive shops in Beirut for further information.
Other diving locations submitted by readers:
In 2010 two lucky divers were approached by a smalltooth sandtiger in a kelp forest in Southern California.
HOME
LINKS
TAXONOMY
UNDER THREAT
BOOKS
CONTACT
IF YOU LIKE THIS PAGE PLEASE SHARE IT Share