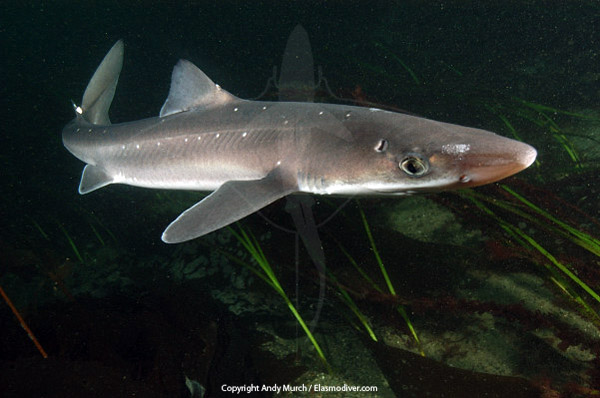 View all available Spotted Spiny Dogfish Pictures
Common Names:
spotted spiny dogfish, North Pacific spiny dogfish, spiny dogfish, mudshark.

Latin Name: Squalus suckleyi (previously Squalus acanthias)

Family: Squalidae

Identification: The spotted spiny dogfish has a conical snout with a rounded tip. Dorsal fins are relatively low compared to A.acanthias. First dorsal fin spine is opposite or slightly posterior to free rear tip of pectoral fins. Pelvic fin origin closer to second fin than first dorsal fin. Dorsal coloration grey to brown above with small white spots. White spots may be randomly positioned or follow the lateral line. Occasionally spots are absent. Eyes large. Mildly venomous spines on first and second dorsal fins. Anal fin absent. Ventral coloration white.

Size: Maximum length 1.6 meters. size at birth 22-33 cm. Maximum recorded age 66 years.

Habitat: Often cruise over sand and mud bottoms. Also frequently encountered over rocky reefs. From 0 to 900 meters. Inhabits estuarine, coastal and offshore waters sometimes migrating over great distances - 30 tagged individuals traveled from British Columbia to Japan, 7000km! Normal migration patterns are usually more localized; The British Columbian population is split into two distinct subgroups. One subgroup appears to be resident but the other migrates between Canada and the US probably in order to stay within a more comfortable seasonal temperate range.

Abundance and distribution: Endemic to the North Pacific, from the Koreas and Japan, northward to Russia (Kamchatka, Sea of Okhotsk and Sakhalin), the Bering Sea and the Aleutian Islands, and eastwards in the Gulf of Alaska, British Columbia and Washington south to southern Baja California. In North America, S. suckleyi is extremely common off British Columbia and Washington, but decline in abundance off the Oregon and California coasts. It occurs in a wide depth range from very shallow waters in some areas down to depths of at least 1236 m (Ebert, 2003). Squalus suckleyi appears to prefer water temperatures between 7 and 15°C, and often makes longitudinal and depth migrations to follow this temperature preference (Ebert, 2003).

Behavior: Cruises over soft bottoms either alone or in small groups. Occasionally schools (often segregated by sex) in response to food supply such as squid or salmon runs. May also form schools with other species such as leopard sharks and smoothhounds. Diet consists mainly of bony fishes. Other foods include octopus, squid and crustaceans.

Reproduction: Ovoviviparous. Litter size from 1- 20. Spotted spiny dogfish have a slow maturity rate (around 12 years) which makes them very vulnerable to over fishing. They also have the longest gestation period of any known vertibrate 18-24 months.

Observations:

Photographs: Quadra Island, British Columbia, Canada.

Similar species: Spiny Dogfish Squalus acanthias. The spiny dogfish or spurdog is a virtually indistinguishable species occurring in the Atlantic. Geographic range is the best identification method. According to a 2010 paper by Ebert et al, S.acanthias does not occur in the North Pacific.

The spiny dogfish has a greater vertebral count averaging 112. The North Pacific spiny dogfish has an average vertebral count of 99 (within a range of 97 to 106).

Reaction to divers: These are curious and harmless sharks that will often closely approach divers and on occasion accompany them on their dives. If divers are buzzed by a dogfish they can often be recalled by tapping two stones together. The dogfish seem to find this irresistible and will repeatedly return to satisfy their curiosity. If engaging in dogfish feeds it is possible to play tug of war with these little sharks. Care should be taken to avoid their mildly venomous spines.

Diving logistics: On Vancouver Island dogfish are present during the summer months most often from July to September. It is possible to see them occasionally whilst shore diving in Saanich Inlet during this period. Reputedly they are relatively common to the north around Campbell River. For an overview of the dive sites of Saanich Inlet visit the Victoria Scuba Club Website listed on the elasmo-links page.

On Quadra Island it is possible to go on a freestyle dogfish feed. This is one of the most entertaining shark interactions that you could have.

Spiny dogfish at Quadra Island trip report

Read about the spiny dogfish debate

References:
Resurrection and redescription of Squalus suckleyi (Girard, 1854) from the North Pacific, with comments on the Squalus acanthias subgroup (Squaliformes: Squalidae)
DAVID A. EBERT 1, 2, 3, 8, WILLIAM T. WHITE 4, KENNETH J. GOLDMAN5, LEONARD J.V. COMPAGNO6, TOBY S. DALY–ENGEL7 & ROBERT D. WARD4

Migration Patterns of Spiny Dogfish (Squalus acanthias) in the North Pacific ocean - G.A. McFarlane and J.R. King. - Fisheries and Oceans Canada.

Maximum Ages of Ground Fishes in Waters off Alaska and British Columbia and Considerations of Age Determination. - Kristen M. Munk - Alaska Fisheries Research Bulletin Vol. 8 No.1 Summer 2001.

Reef Sharks and Rays of the World - Scott W. Michael.

Coastal Fish Identification, California to Alaska. - Paul Humann - New World Publications.

Sharks - Andrea and Antonella Ferrari - Firefly

Marine life of the North Atlantic - Andrew J Martinez - Down East Publications.