SHARK DIVING
CONSERVATION
PHOTOGRAPHY
RESOURCES
WEB STUFF
WHAT IS ELASMODIVER?
Not just Shark Pictures: Elasmodiver contains photos of sharks, skates, rays, and chimaera's from around the world. Elasmodiver began as a simple web based shark field guide to help divers find the best places to encounter the different species of sharks and rays that live in shallow water but it has slowly evolved into a much larger project containing information on all aspects of shark diving and shark photography.
There are now more than 5000 shark pictures and sections on shark evolution, biology, and conservation. There is a large library of reviewed shark books, a constantly updated shark taxonomy page, a monster list of shark links, and deeper in the site there are numerous articles and stories about shark encounters. Elasmodiver is now so difficult to check for updates, that new information and pictures are listed on an Elasmodiver Updates Page that can be accessed here: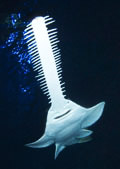 _
THE SHARK AND RAY FIELD GUIDE

THE SHARK PICTURE DATABASE

THE ELASMODIVER SHARK AND RAY FIELD GUIDE

An online guide containing species profiles of hundreds of sharks and rays.

The Elasmodiver Shark and Ray Field Guide is an invaluable resource for scuba divers and naturalists.

Thousands of images of sharks and rays by Shark Photographer Andy Murch.

The Shark Picture Database showcases images available for commercial licensing.

LATEST FIELD GUIDE SPECIES

ELASMODIVER BLOG

Added 11/10/13

UNEXPECTED ENCOUNTERS NEW SHARK BLOG:

Hundreds of mantas + two new trips: Makos and bull sharks.

Added 04/10/13

SHARK CONSERVATION

SHARK DIVING EXPEDITIONS

PIP is a multi-faceted shark conservation campaign designed to build awareness about the plight of hundreds of poorly known species of sharks and rays.

BIG FISH SHARK DIVING AND PHOTOGRAPHY EXPEDITIONS

Come diving with Photo pro Andy Murch and pick up shooting tips while diving with the greatest sharks in the world
MORE SHARK DIVING AND PHOTOGRAPHY RESOURCES

Read about the best places in the world to find and scuba dive with sharks and rays.

SHARK DIVING STORIES

Published articles about shark diving and shark conservation.

Scuba-diving adventures around the world.

Practical tips and simple techniques for improving your shark and ray photography.

A practical introduction to the addictive sport of shark diving.

SHARK FEEDING

Information for scuba divers wanting to step it up to the next level. Plus, the ethics of shark feeding.

SHARK TAXONOMY

An introduction to elasmobranch taxonomy including a taxanomic list of more than 1000 shark and ray species.
MORE FROM ELASMODIVER

Reviews of shark documentaries and fictional shark horror movies

SHARK BOOKS

Hundreds of shark book reviews. Including books about shark diving, shark attacks, general interest shark books, Shark and Ray Field Guides and non fictional and fictional shark stories.

Elasmo-T shirts and hoodies. Warm up after your dive in style.

SHARK BIOLOGY

An index of pages dedicated to different aspects of shark and ray biology, physiology and behavior

SHARK EVOLUTION

An introduction to the evolution of sharks and rays.

ELASMODIVER CONTACT INFO

E-mail, snail mail, international contact numbers, FaceBook, Wordpress, Blogger, twitter and more.
ABOUT ELASMODIVER
Elasmobranch: a subclass of cartilaginous fishes consisting of all shark and ray species.
Diver: an amphibious human.
When Elasmodiver was originally loaded onto the web in 2002 it was intended to be a simple shark and ray field guide showcasing the species of elasmobranchs that scuba divers and snorkelers could expect to encounter. Responding to requests for more information, Elasmodiver's mandate expanded to include more specialized shark and ray content in areas such as: biology and behavior, shark photography, shark diving, conservation of sharks and rays, shark evolution, and shark and ray taxonomy. Although some of the content has become quite technical in nature, the site remains geared to the general public. Each new section that is added generates more questions leading to further expansion which fits with the organic nature of the internet.
Hopefully, within the near future Elasmodiver will include a a database of extinct elasmobranch species, a forum for scuba divers and naturalists of all types to discuss all things shark and ray related, and many new pictures of shark species. If possible there will also be some short video sequences of sharks and rays in the wild.
To keep an eye on the changes to Elasmodiver bookmark the What's New? page.
Elasmodiver is the brainchild of Shark Photographer Andy Murch. Frustrated with the limited information available on where it was possible to go scuba diving with sharks and rays around the world, he created Elasmodiver to share the knowledge that he had collected. He remains the creative force behind the project.
As well as an elasmobranch information portal, Elasmodiver contains a huge selection of shark and ray pictures in the Shark Pictures Database. The images in the Shark Pictures Database are available for commercial licensing and have appeared in hundreds of books and magazines, public aquarium displays, games, scientific journals, and more.
If you have any questions about Elasmodiver please e-mail elasmodiver@gmail.com
SharkPictures Shark & Ray Field Guide SharkPhotography SharkDiving Taxonomy Evolution Biology SharkAttacks Books Shark Movies Stories Extinction Protection Updates SiteMap
CONTACT ELASMODIVER
elasmodiver@gmail.com
250-588-8267
P.O.Box 8719 Station Central, Victoria, BC., V8W 3S3, Canada